The IntelligenceBank Universal Connector is a browser extension currently available for Google Chrome browsers that lets you quickly and easily insert your IntelligenceBank files into any third-party web application, either by drag & drop upload (if supported) or by inserting a live Public Link (for images and videos).
Once enabled for your platform, click here to install it on your browser.
To login and start using the connector, enter your credentials:
PLATFORM URL:
- Enter the URL of your IntelligenceBank Platform. To enter a Custom URL, select the option at the bottom of the page.
USERNAME:
- This is the email addressed associated to your IntelligenceBank user account.
PASSWORD:
- This is the password you setup for accessing your IntelligenceBank user account. If you cannot remember your password, go to your login page to reset it and create a new one.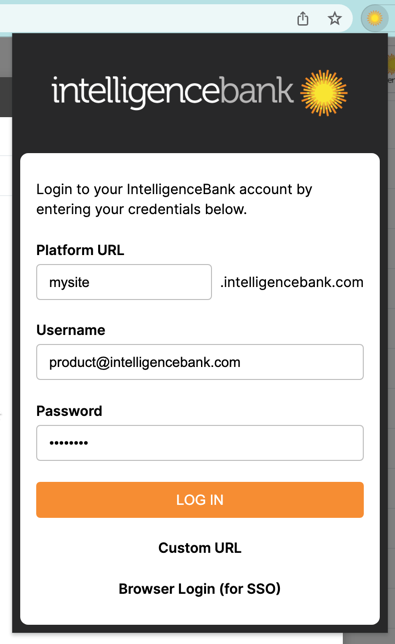 SINGLE SIGN ON USERS
If you are using your SSO credentials to login to IntelligenceBank, login following these steps instead:
- Enter the URL of your IntelligenceBank Platform. To enter a Custom URL, select the option at the bottom of the page.
- Click Browser Login (for SSO) at the bottom of the page.
- You will be redirected to your IntelligenceBank platform URL. Login via the SSO option on the web login page as per normal.
- Once successfully authenticated, this screen will appear.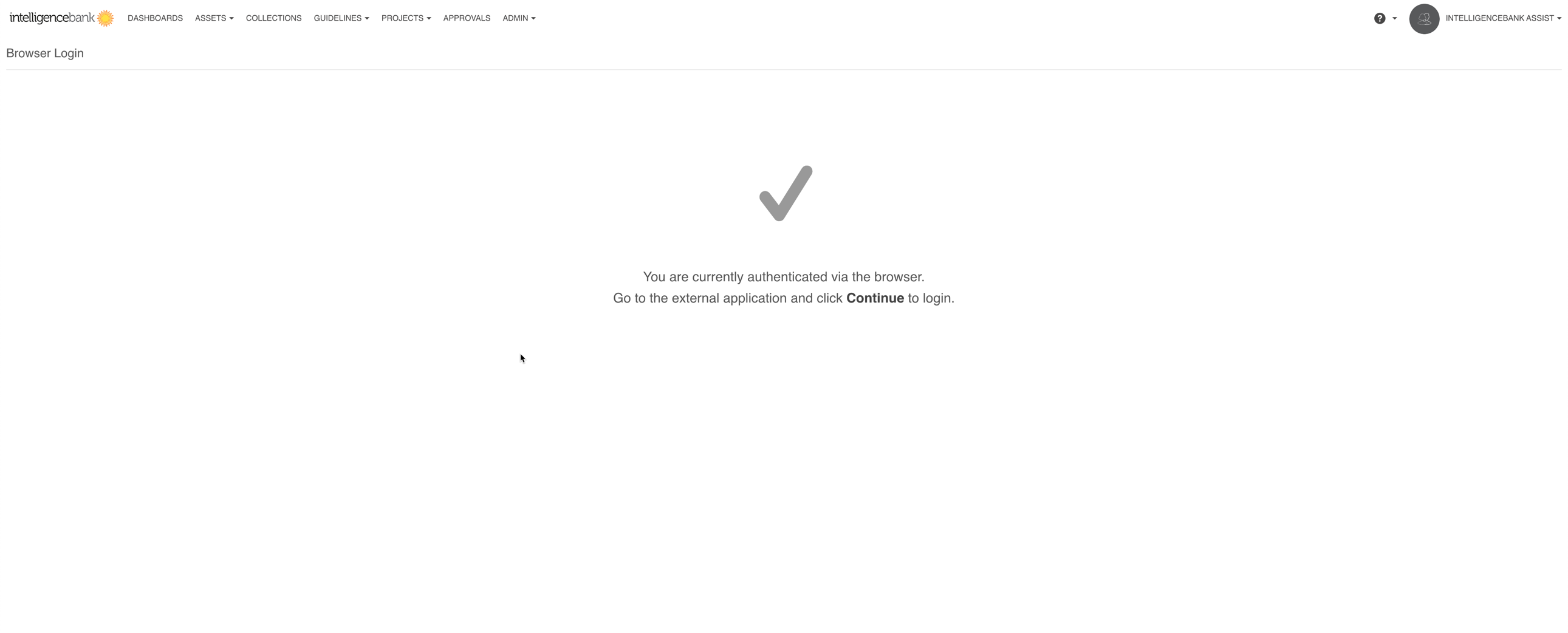 - Return to the extension and click Continue to login to the Chrome Extension.
HOW TO USE THE CONNECTOR
Once logged in, you will be able to browse through your IntelligenceBank folders and content.
To insert a file into a third-party website, simply click PREPARE on the file, and once the button changes to SHOW, click it to reveal the locally downloaded file (it will appear automatically the first time), and drag it onto the upload area of the web page.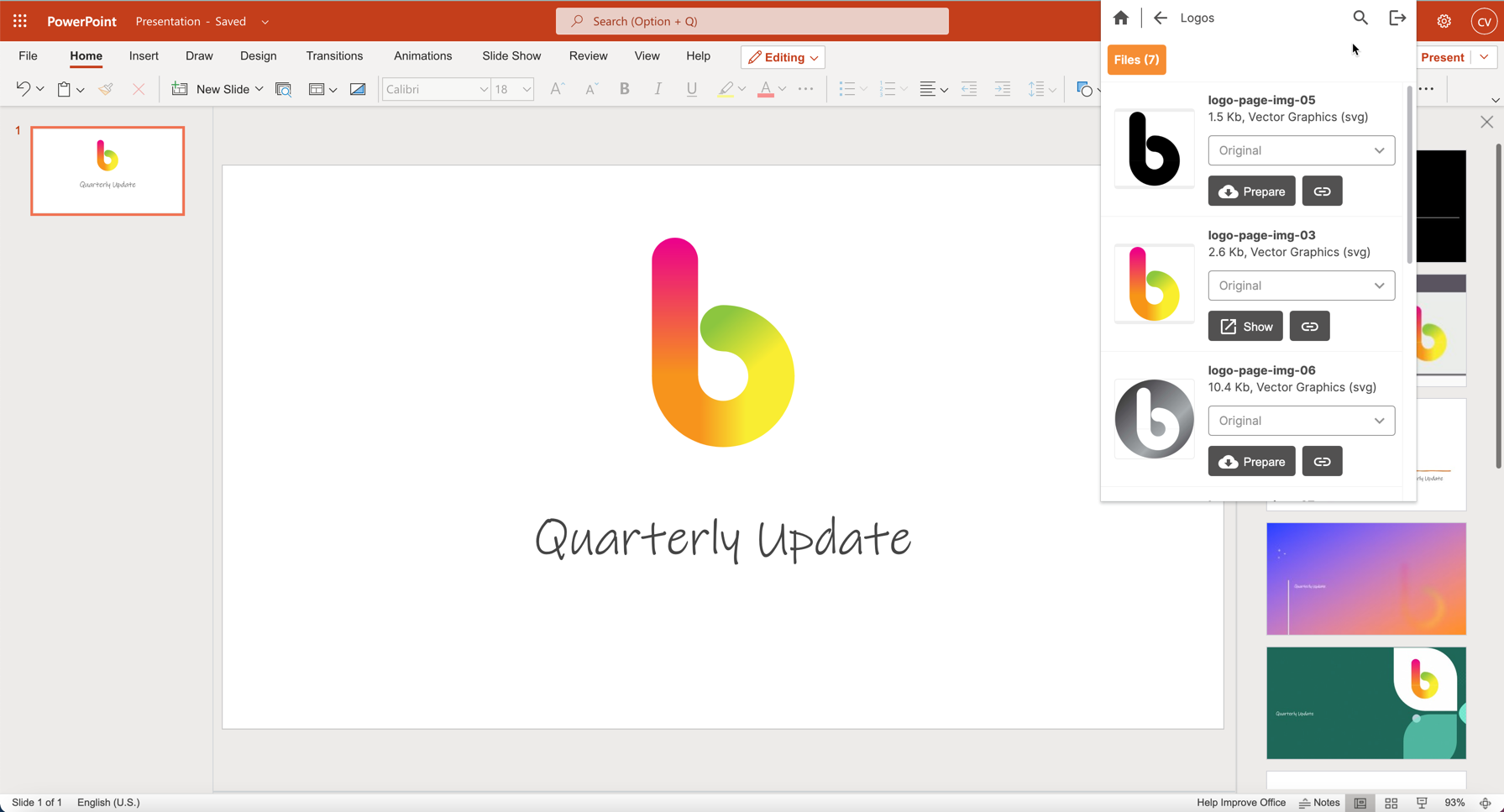 Prepared files are automatically downloaded into an IntelligenceBank folder located in your Downloads area. If you have the Chrome setting to request to chose the destination folder for each download, this prompt will come up. You can turn it off under Chrome Settings > Advanced Settings.
It is important to note, that the IntelligenceBank Universal Connector Drag & Drop feature only works with websites and applications that support drag & drop upload.
If Public Sharing is enabled on the folder, you can also copy the Public Link to the image or video asset, and insert it into your third-party application (e.g. Wordpress Insert URL field in the Media Library). If the original asset gets updated, the live Public Link will instantly get the latest update in all the locations where it is in use. Similarly, if the original asset is archived or moved to a different folder, the live Public Link will be terminated / disabled automatically.
For both options, you can select a Global or Single Preset when available for supported image types.
If you have any questions about the IntelligenceBank Universal Connector, or would like to enable it for your platform, please contact us at helpdesk@intelligencebank.com.