You can restrict the ability for select groups of users to Edit certain Sections of Database Records.
This can be set on each section in the Form Builder area for each Register / Database.
This can be used (for example) when one section of a form needs to be filled in by the end user, but another section is for 'Admin only' to complete.  
To enable this option, either Create a New Database, or select Edit Form Builder for your existing Database or Register.
Either create a new Section, or click on an existing Section name within your Form.
From the Prevent Edit for Select Groups option click into the drop-down and add in any Groups of users you want to restrict access to for this Section.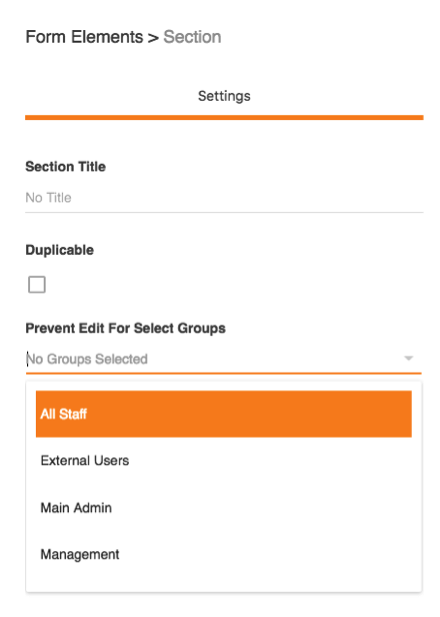 Remember to Save your changes. 
Users within these groups will still be able to View the Section, but will not be able to edit it.
Instead to these users all fields within this Section will appear disabled, so the user will not see any indication they can input a response.

Note: If the Title field for your Database / Register is in this 'restricted' section, or if you have Mandatory fields within the section, users with the restricted access will not be able to add a new record.



Related:
Updated Form Builder Information