If you often find yourself needing to fill out the same form again and again, let us do the bulk of the work for you and Copy your record! 
For any Record within a Single Database, head to your Record's dropdown and select Copy.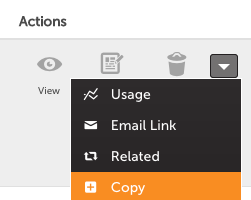 A new, duplicate record will then be created, complete with all the content from the original record. This includes any attachments from your Upload field.
Please note that this will only appear if you have, at minimum, the permission to Create. 
Copy Record Setting
If you go to your Database settings, there will be a new section called Copy Record Options. This includes a setting called 'Auto-create Related between original and copy'. If you enable this setting, then any record you Copy will automatically have a Related link between the original and copied record. 

You can also enable the option to copy content within your Resource folders, if you have the Auto-Create Folder function on your database. To find out more about this feature, click here.