To create a Grid Matrix Widget, enter your Dashboards module.

Select an existing Dashboard, or if you haven't created one yet, Add a New Dashboard from your list.
Click Add Widget and select Grid Matrix from the widget selection page.


Step 1 > Set main details will now open.
Here you can add a Widget Display Name, Description, select a Header Colour (from options matching your platform colours set up in Admin > Templates) and also select a Size for the Widget.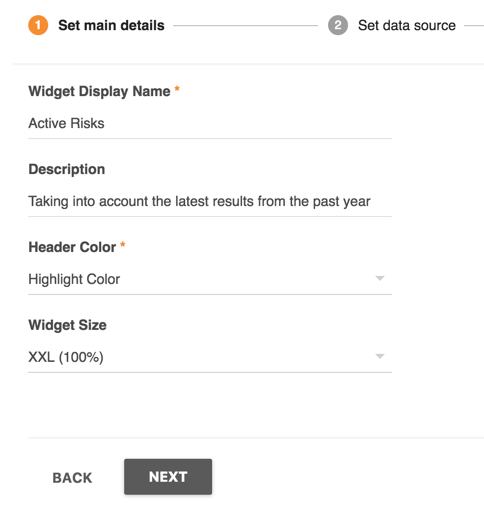 Step 2 > Set data source.
Here you can choose which Module you want to draw your data from. The options for the Grid Matrix widget are:

- Databases 
- Surveys
(Your options may depend on what modules are enabled on your platform.)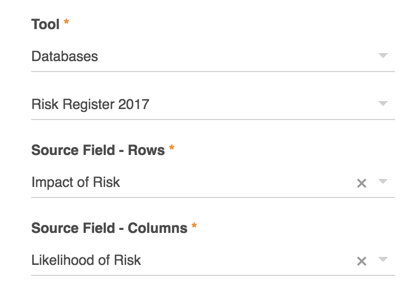 You will also need to select the Row & the Column of your Grid Matrix, in the Source Field options. These values will be drawn from the Database or Survey selection and will contain all Single Select fields from your custom form. 
Note: To successfully build your widget, you will need to have at least two single select fields from within the same database or survey.
Step 3 > Set data display options.  
Legend Display
In this step you will need to input your Legend Values. These will be the colours and values that will be visible on the Grid Matrix.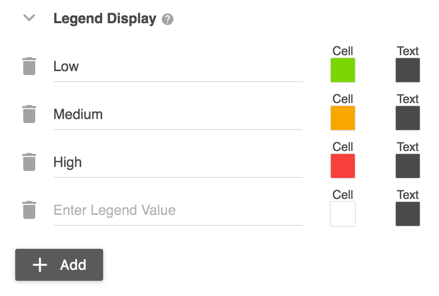 Simply enter the name of your value and pick the colour you would like to appear. The content entered in the Legend Display section will appear as buttons in the Grid Display section, and provide a guide on the Dashboard itself that reminds you of the classifications attributed to each cell. 
Grid Display
The column and row titles within the Grid Display section (pictured below) are populated by the values from your Source Fields selected in Step 2. 
Apply your Legend Values to any cell within the Grid Display by clicking the buttons above the table and then the cell in question. In the example below, the white (unassigned) cells that in the 'Major' column, are also in the Likely and Certain rows and need to be classified as High. Consequently the user needs to select the red 'High' button and then the remaining white cells. 

The colours entered here will appear on your Dashboard, within the Grid Matrix widget.
Once you have entered all your values, click Finish to create your Widget.