Generate auto-tag for your video/audio content to improve efficiency and enhance discoverability.
IntelligenceBank customers can now use AI-powered auto-tagging functionality for their video/audio assets with a 20-minute free trial. 
Quick Links :
What does auto-tag functionality offer? 
Video and Audio auto-tagging allows you to automatically tag:
Audiovisual Keywords: Auto-tags for Audiovisual Keywords are detected from

 insights on the different keywords discussed in media files.  These keywords are detected from the speech and visual text and automatically tagged against the asset.

Topics: Auto-tags for Topics are automatically inferred, based on various keywords from the speech and visual text. 

Objects: Auto-tags for Objects are automatically detected from visual objects and actions displayed.

Locations: Auto-tags for Locations are automatically detected from the speech and visual text.

Brands: Auto-tags for Brands are automatically detected from the speech and visual text.
With auto-tags this will allow resources to have enhanced discoverability: with tags reflected and used in global searches as well as the ability to jump to specific timestamps in an audio/video where a specific tag appears. 
How to get started and turn on the Video/Audio Tagging setting in Admin?
Get started with a 20-minute free trial by simply enabling Audio/Video Tagging in your Admin settings.
Turn the Asset Intelligence setting on in Admin settings

Accept the T & Cs

Video/Audio Tagging and Audiovisual tagging will be turned on automatically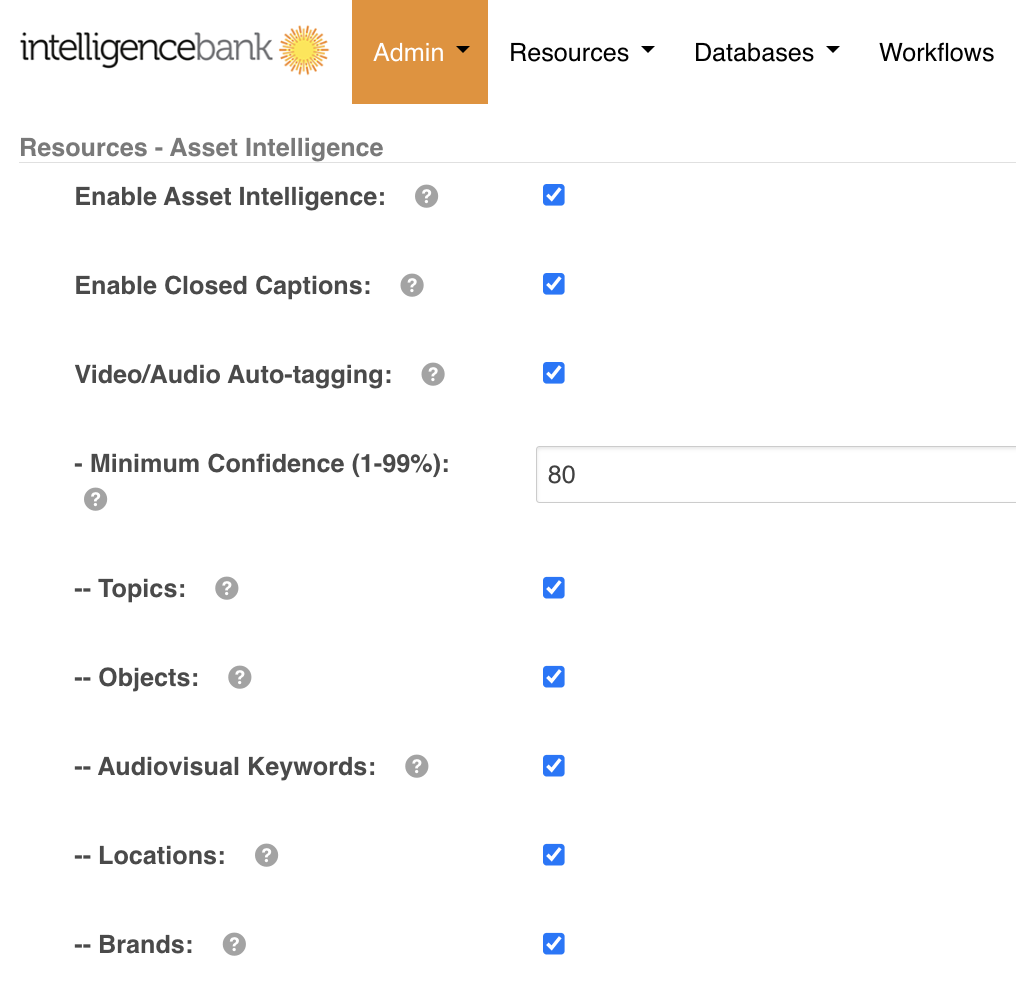 How to use Video/Audio Tagging within the IntelligenceBank platform?
You can generate auto-tagging for the Audio and Video assets: 
During Single or Bulk Upload

On the Edit/New Version screen
Generating auto-tags
Navigate to the Tags section when on the Upload or Edit page

Turn the "

Generate Auto-tag

" toggle on for all or the required tags 

Click on "Save" or "Submit"
Auto-tags will be processed in the background after saving and displayed on the Info Preview screen when processing is completed.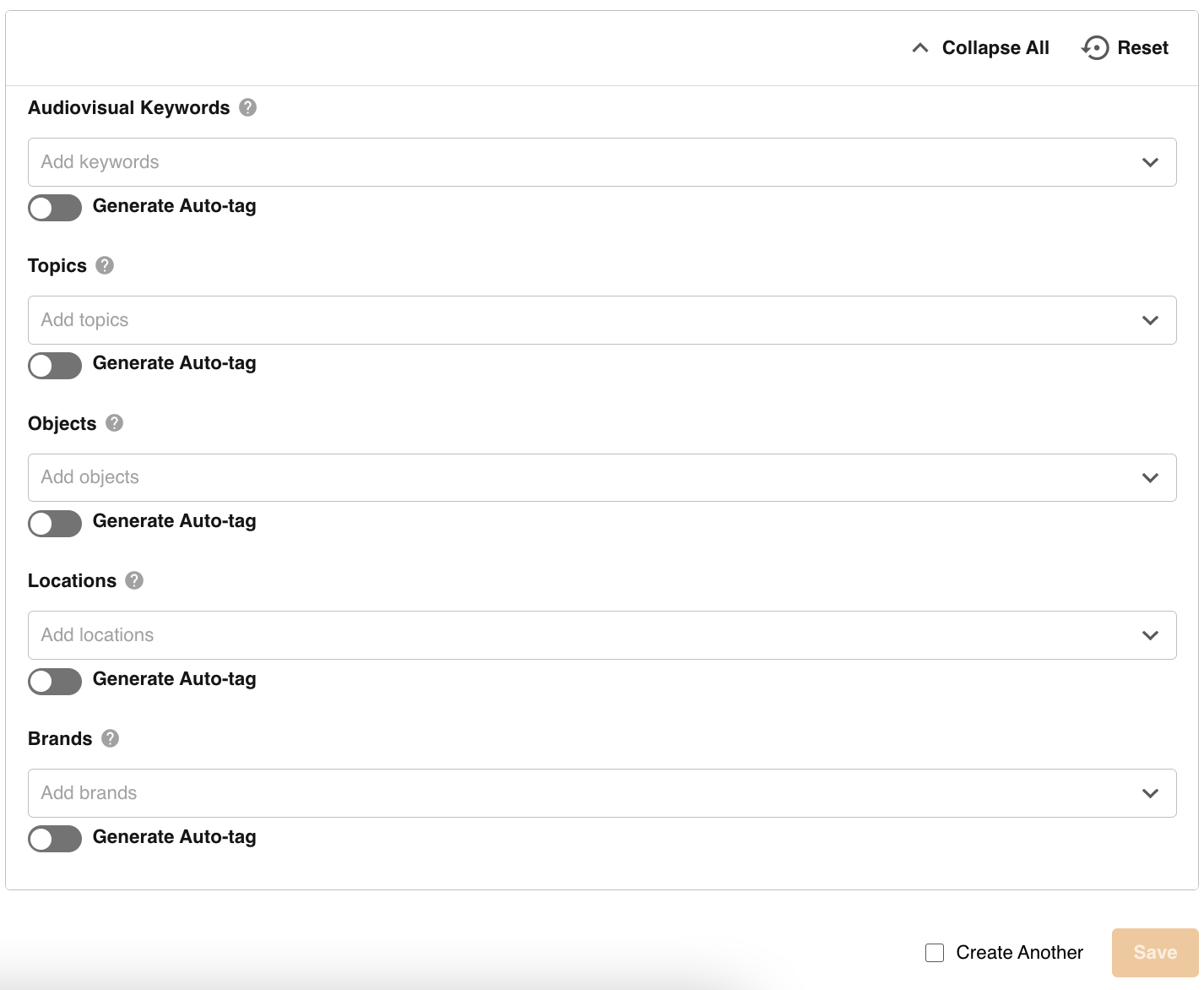 Remove auto-tags
To remove auto-tags for already uploaded audio or video assets, open the "Edit/New Version" screen.

Navigate to the Tags section

Click on the cross icon to delete the auto-tags  

Save changes

Search the assets with Audiovisual Keywords
Users can enter keywords in the search bar to search for assets with Audiovisual Keywords.
For more granular search results users can use the filters and select Keywords from the Search Scope

How to view auto-tags for an audio or video?
Search or Navigate to a resource
In the Main Details tab, you will see the Tags sections where auto-tags will appear
You can click on a tag to jump to that point in time within your Audio or Video preview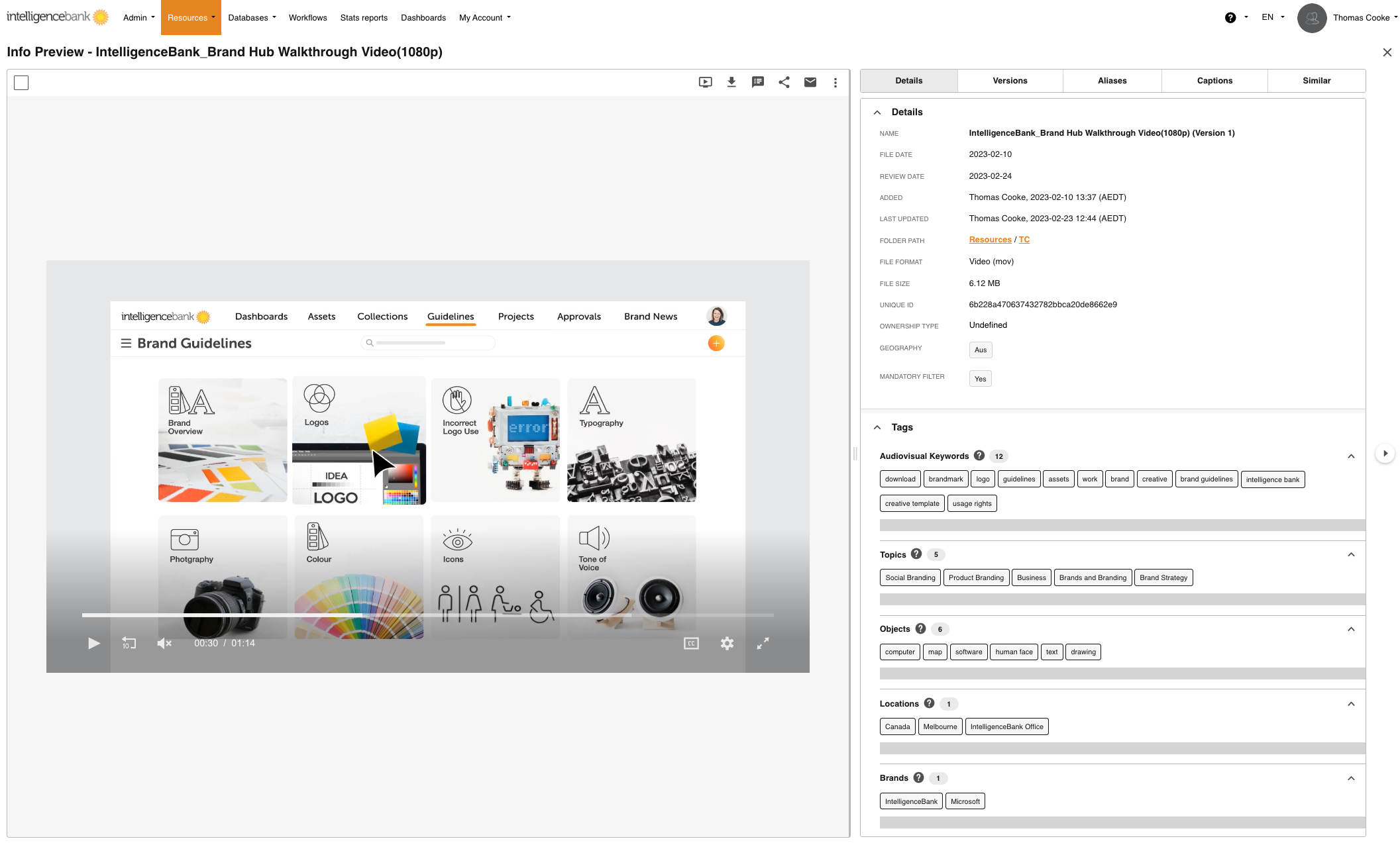 FAQ
How to activate the 20-minute Free Trial?
Refer to the Getting Started Section

on this page to activate the 20-minute free trial. You can contact helpdesk@intelligencebank.com if you have any questions or issues in activating the trial.

Which file formats are supported for auto-tagging?
All the formats supported for audio and video preview will be supported Refer to this page for the complete list.

How long does it take for auto-tags to be processed?
The processing time of auto-tagging depends on the size and duration of your audio/video file. For a 30-second video, it can take 5 minutes to process. Typically we ask people to expect between up to 10-20 minutes.

Working with Large Video files?

File Size Upload limit optimised to 10GB, speak to your account manager about increasing
File Preview/Playback maximum 10GB
File Length maximum 4hr
Related: