The Comment Threads feature in Markup Comments streamlines how creative teams manage feedback and communication among different groups of users and stakeholders within a collaborative project. It allows users to segment feedback, keeping discussions contained between certain groups of users without the need to alert everyone. This improves communication and makes it easier to manage feedback, resulting in a more efficient collaborative process.
This article explains how to enable and use Comment Threads. Click on the headers below to jump to that section.
Configure settings
Enabling Comment Threads in General Markup Comments
Users are able to use Comment Threads in General Markup Comments after it is enabled in Admin and in the applicable Database:
Navigate to the Admin > Settings page

Select Enable Comment Threads under Configure General Markup Comments (by default, it is enabled)

Navigate to the Database where the General Markup Comments feature is located.

Select Enable General Markup Comments on Uploaded Files for the applicable Multi Upload field(s).

Select Enable Comment Threads under Configure General Markup Comments
Enabling Comment Threads in Approval Markup Comments
Users are able to use Comment Threads in Approvals after it is enabled in Admin and specific Workflow templates:
Navigate to the Admin page > Workflows

Select Enable Markup Comments - Comment Threads under Create / Edit Workflow for Resource Publish, Resource Feedback, or Record File Approvals. This sets the default behaviour of the setting across the platform.

Navigate to Workflow in the Folder or Database > Multi Upload and ensure setting is selected.
Note that the feature will only be accessible if the local settings are enabled, ie on the specific Folder or Multi Upload field.


How to use Comment Threads
Add a Comment Thread
When the Markup Comment page opens, a General Comments thread will be selected by default, allowing everyone to add comments that will be viewed by all users who can access the page.
You can also add New Comment Threads by opening the comment thread dropdown and selecting New Comment Thread (as highlighted below).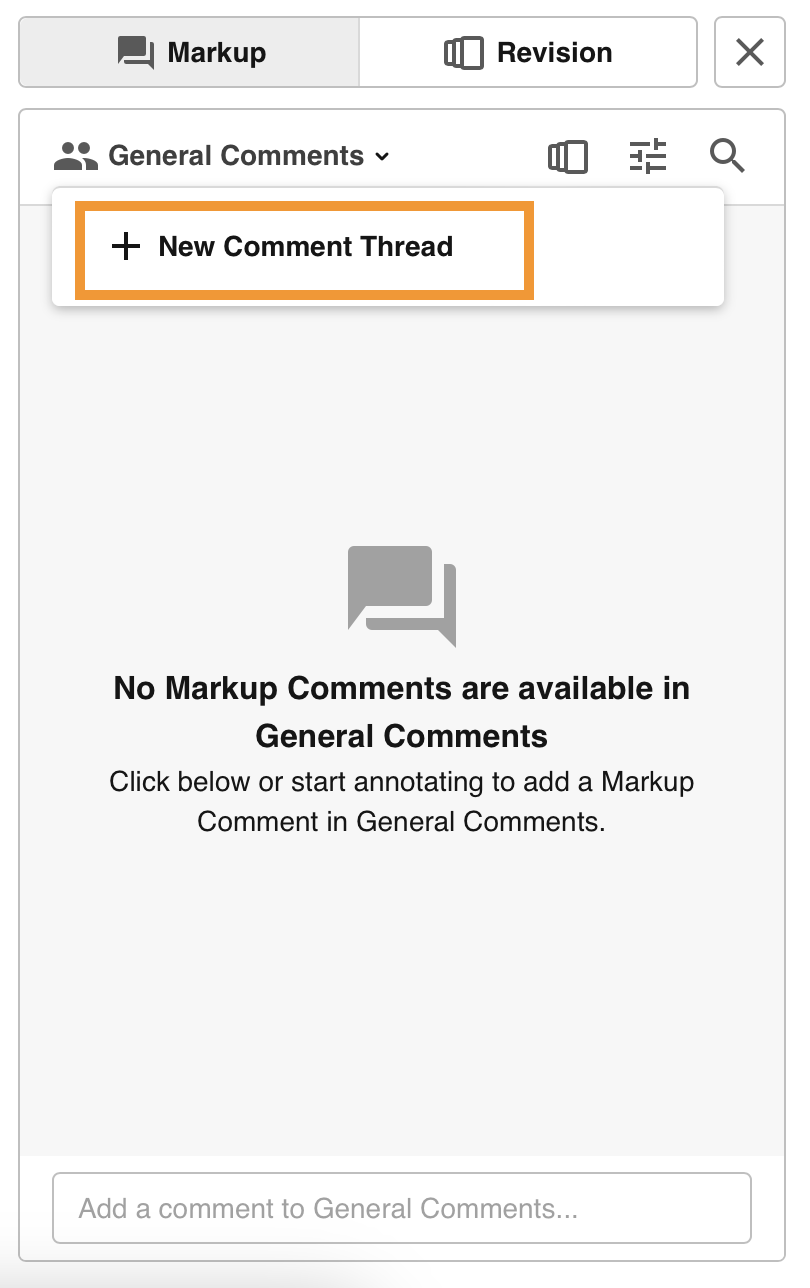 Once selected, the Create a Comment Thread popup will appear. Here you can add a Thread Name and select which users will be able to access that Thread.
Some points to note about Users and Threads:
Only Users who have the ability to add a Comment on the relevant Markup page can be added to a Thread.

Any Comments added can then only be viewed by those included within the related thread (and Main Admins).

Notifications for Markup Comments will only be sent to Users added to the Thread.

The General Comments thread is always available to all users who can view the Markup Comments page.
Threads in Add Version / Revision page
On the Add page, you can review and resolve any comments via the Threads dropdown before saving the new file.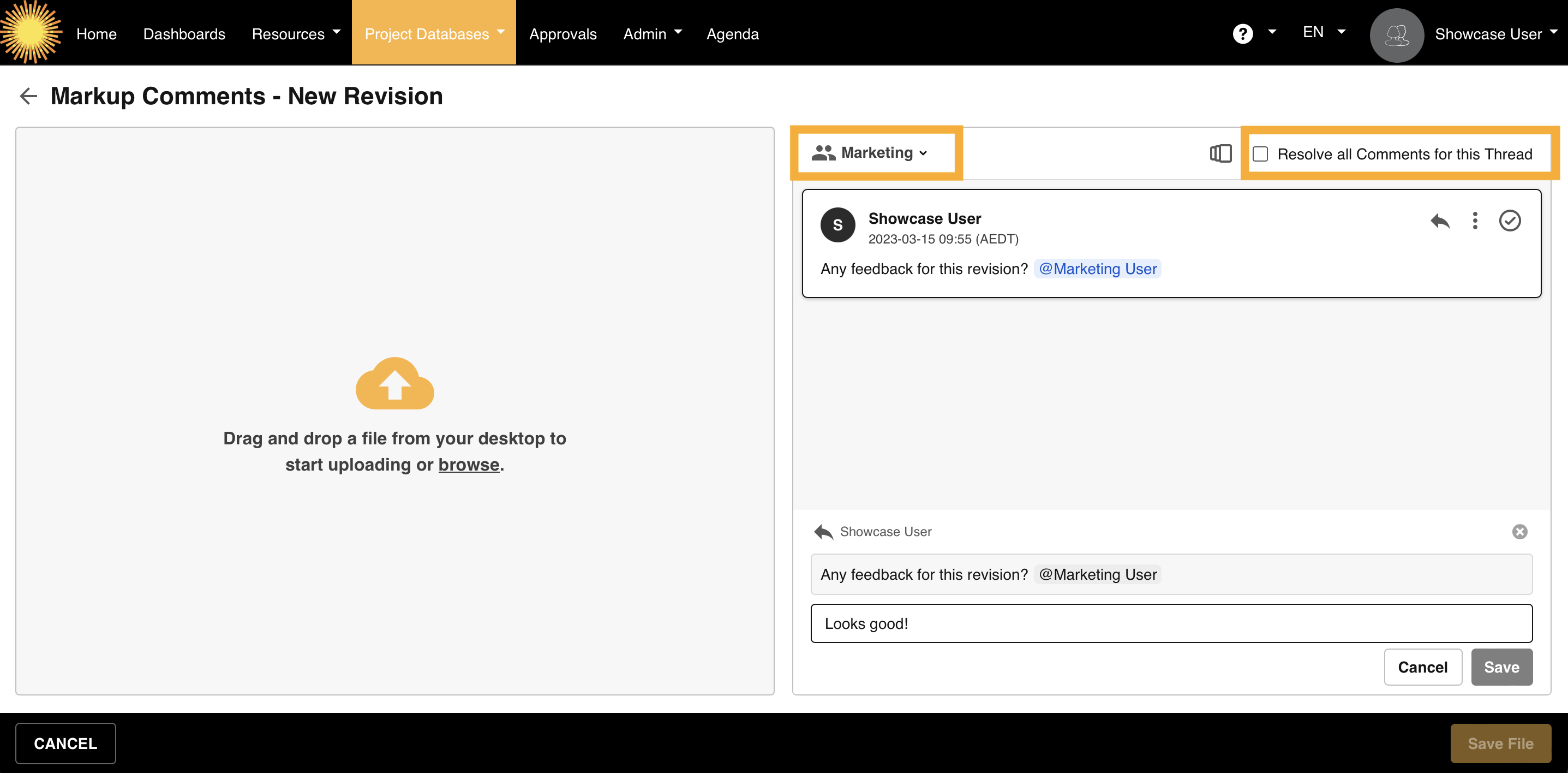 Manage Comment Threads
To manage Comment Threads, click the setting button (highlighted below) for the relevant Comment Thread in the dropdown.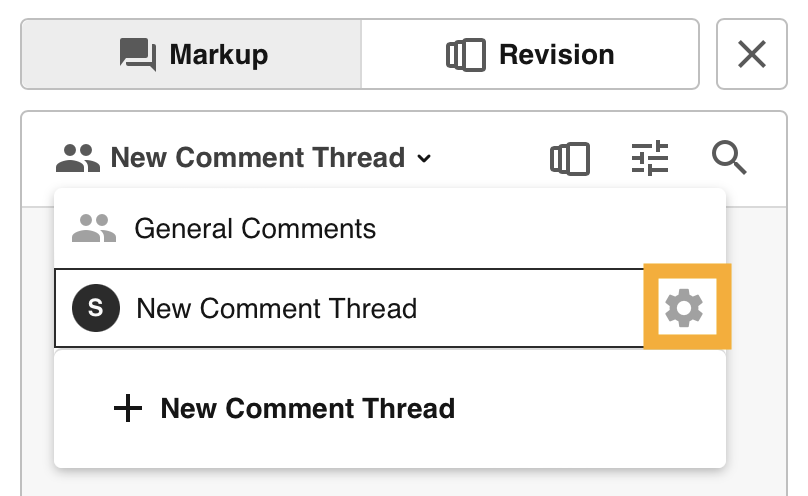 In the Manage Comment Thread popup you can:
Update the Thread Name

Add or remove users who have access to the thread.

Note that if you add new users, they will be able to see all previous Markup Comments.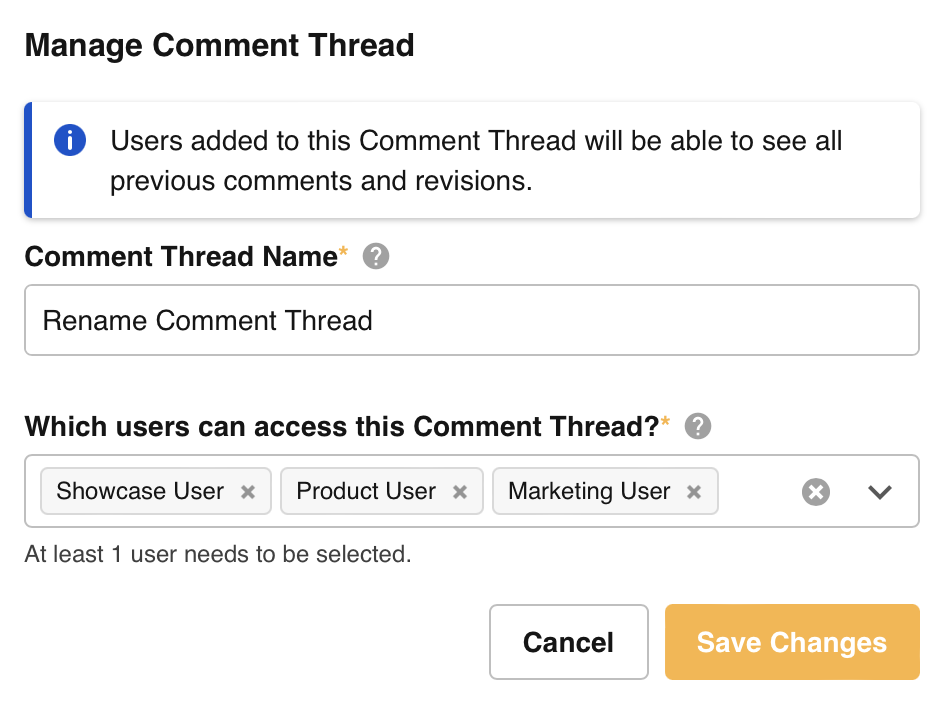 ----------
Other Markup Comment articles available include: Markup Comments Overview, Markup Comments Support, Access & Restrictions, Markup Comments & Annotations, Video Markup Comments & Annotations, Add New Versions / Revisions in Markup Comments, Instant Alerts (Markup Comments).
To read more about Approvals click here.
Please note that the 'Databases', 'Resources' and 'Approvals' terminology referenced above may appear differently in your platform as these are customisable terms. You can view related terminology here.
If you have any further questions about Comment Threads, please contact your Customer Success Manager.