To add several files to a folder at once, you can use an action called Bulk Upload.
You can skip to a specific section below:
Accessing the Bulk Upload action
When viewing any of your folders, either on your Resources home page or if you're within a Sub-Folder, you can click the More icon to open a dropdown of Folder-related options.

When you click this, simply look for the Bulk Upload option in the dropdown menu and select it. You can see the Bulk Upload action highlighted below.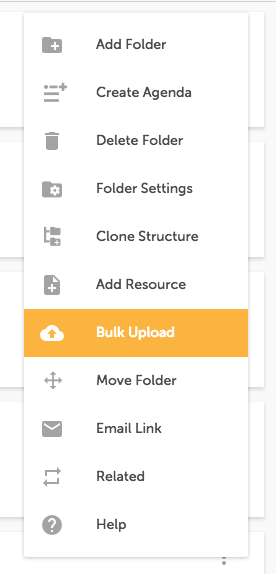 When you're within a folder, you can also use the Add button as a quick way to Add Resources or Folders, as well as utilising the Bulk Upload action.

Select Bulk Upload from the dropdown menu to select the action and enter the Bulk Upload page.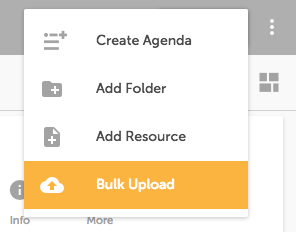 Adding information to your Resources
You can define metadata to apply by default to Resources as they are added in the top section.
If left blank, the Name and Resource Date fields will be automatically populated with the filename (without the extension) and today's date.
Note that if you can't see the view below, you are most likely using our upgraded Bulk Upload functionality. You can read more about that here.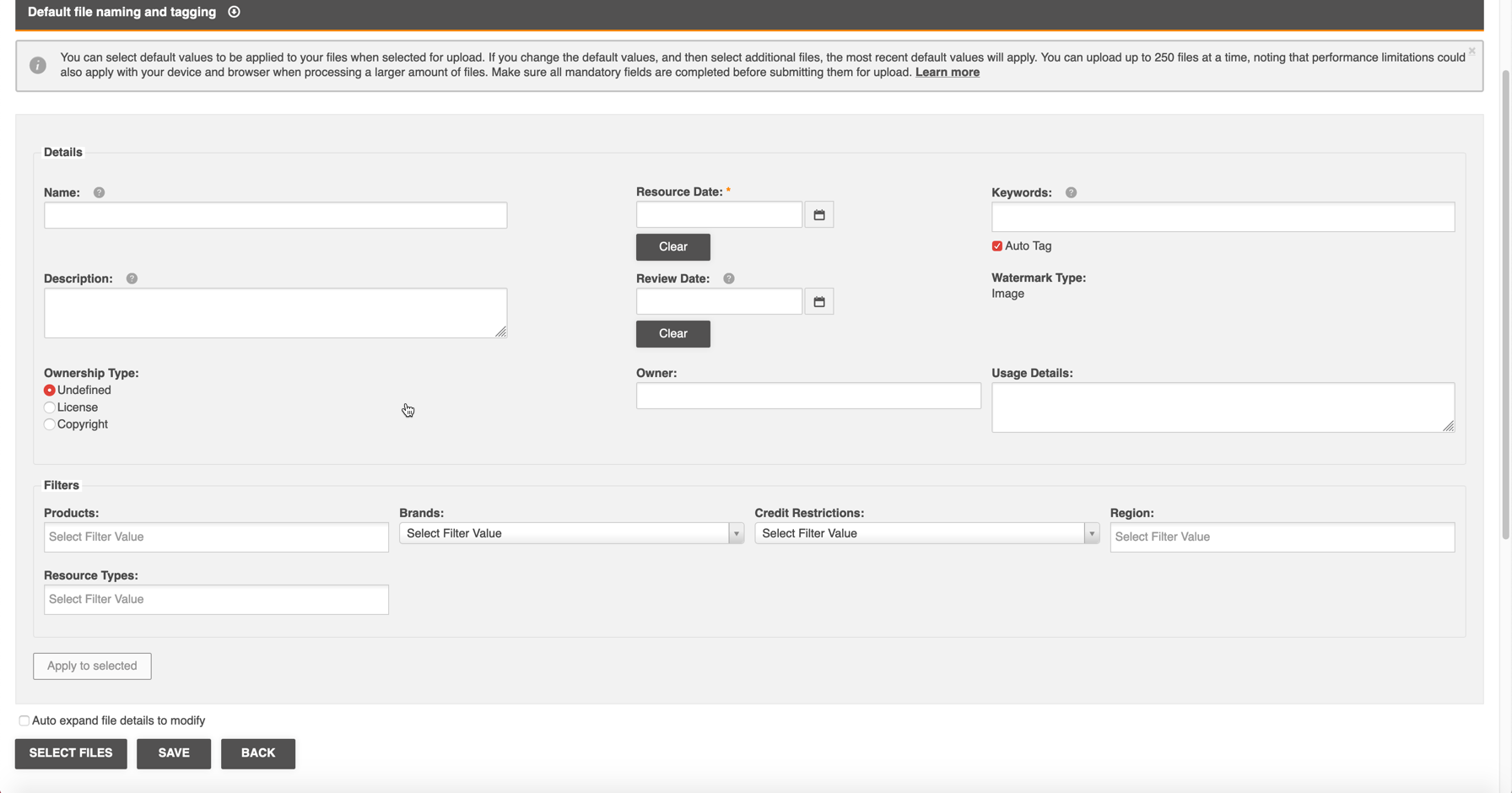 Uploading your Resources
Once you've added any details that need to apply to all Resources, click on Select Files to select the files you wish to upload in bulk. If you are using a recent browser, you can also 'drag and drop' files into the upload list.

The files you select will then appear in the 'Upload List' section (pictured above); where you can customize the metadata and settings for each file individually. In order to alter the file options users will need to click the '➤' button located next to the files title.
A preview will be displayed for the most commonly supported image file formats (bmp, gif, png, jpg, jpeg, ico, svg, webp), pending their size is not greater than 15MB.
Files can also be removed from the upload list by clicking on the bin icon.
The Bulk Upload feature allows users to upload up to 250 files at once. As Resources get saved, new files can be added to the list for processing.
If Metadata Mapping is enabled, embedded metadata may be automatically extracted and inputted into the mapped fields.
If a file already exists elsewhere in the Resources Library, a duplicate warning will be presented to the user. The user can then choose to skip the upload, or proceed with creating a separate Resource entry for that file. Note that creating multiple Resources linking to the same file does not use additional storage (i.e. files are always only stored once on disk). Duplicates are identified by checking the filehash, or digital fingerprint of the file (this method is also referred to as "md5sum").
Once you are finished selecting files and applying metadata, simply click the 'Save' button to save the files and their metadata as new Resource entries.
*Note that the name given to modules, features and information items may vary in your platform as they can be customized by Main Admin users.