Bulk Actions refers to carrying out a desired action across multiple Resource items at once.  
For example: Downloading, Deleting, or Moving multiple files at one time.
(For how to bulk edit, please click here.) 
If your Resources are in the List layout there will be checkboxes to the left of each item that you can individually click, or alternatively if the change is to be applied to all files within this folder, click the box up in the Resources banner.
Clicking the drop down icon in the Resources banner will then display the actions available. Click the one you require, and follow the subsequent steps to complete this bulk action.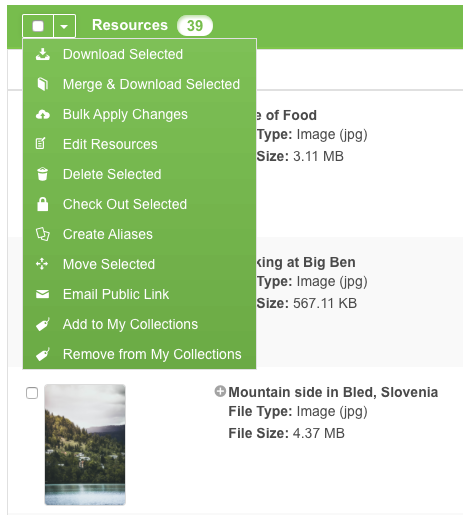 If you view your Resources in the Thumbnail Layout view, you will see checkboxes available up the top left of each Resource thumbnail border. Click the files required for the bulk action, or click the box up above in the banner to select all. 
To select the action you need, click on the drop down icon at the bottom right of each thumbnail border, select the action required, and follow the subsequent steps.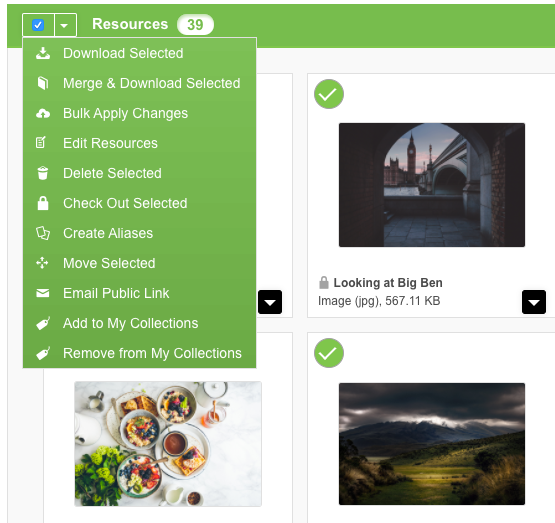 Related:

Bulk Apply Changes