Annotations left against relevant documents can in some cases be shared with other users. 
There is a setting located in Admin > Settings > Enable Annotations Sharing that can enable this in your platform. 
Below are two options for sharing your annotations:


Option 1- Shared Stream 
This is ideal to 'workshop' a document, as multiple users can contribute ideas and notes while seeing the same from other users.
To leave shared annotations on a document first open this file in the Reader view.
Then select the 'Sharing' box from the top menu.
From the options, click on 'Shared Stream':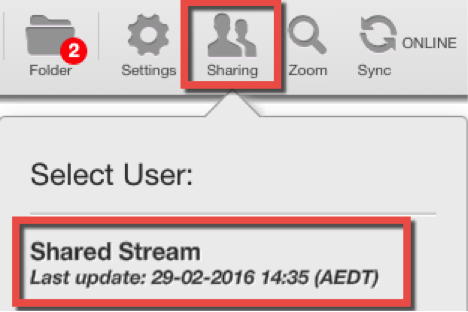 Selecting this means that a) Any annotations you leave can be viewed by anyone that is accessing this document and also clicks on 'Shared Stream', and b) you will see any annotations anyone else has left against the document while in 'Shared Stream' mode.
To see who left which annotation, double click on it and the side-bar menu should open and show you those details.
To exit the 'Shared Stream' click on 'Sharing' again and then select your own name from the list, which will take you back to your own personal annotations (if any have been made).
Note that the document has to be 'synced' to see the most recent updates, and you may need to exit the document and re-open it to see the most up to date comments/notes.
Note also that you cannot merge your personal annotations with other user's personal annotations. These have to be made via this 'Shared Stream' option.
Changing your platform to 'Shared Stream' will mean that user's annotations will not carry across. They have not been deleted - they will reappear should Shared Stream be deactivated again. This also applies to annotations made while in Shared Stream which will not appear if the platform is changed back to deactivate this mode. 
Option 2 - Sharing Personal Annotations 
If you have made personal annotations you wish to share, you can enable this by clicking on the 'Sharing' icon, then your name, and finally the green 'Share Mine' button.
This will make your annotations available to anyone that clicks onto the 'Share' icon. They will see your name from the options, along with any other user's names that have also shared their annotations. Selecting your name will show them your annotations – but unlike the 'Shared Stream' option listed above – they will only see yours, not anyone else's.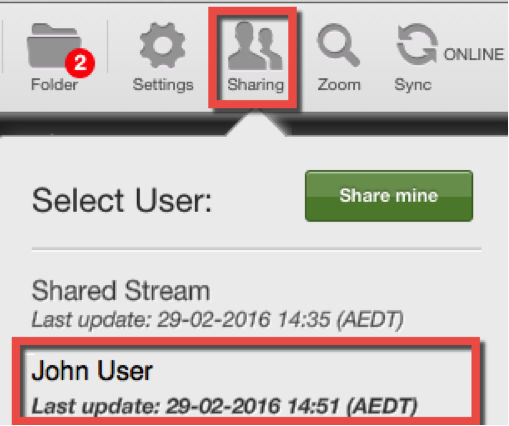 Likewise, if other users have enabled their annotations to be shared, you will be able to click on their name and see their personal shared annotations.
Important: Remember to click 'Stop Sharing' when you are done sharing your annotations, especially if you wish to make further annotation changes to this document that might not be for everyone to read.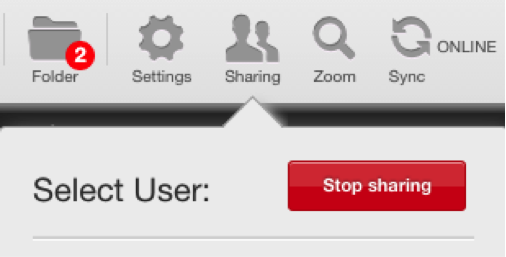 Related: