Note: The add-on supports Adobe InDesign, Photoshop and Illustrator.
Installation Method 1 - Adobe Exchange Marketplace
Before starting, it is recommended to close any Adobe application that may be currently open.
You also need to make sure that Creative Cloud Sync is turned on for Files in your Creative Cloud Preferences.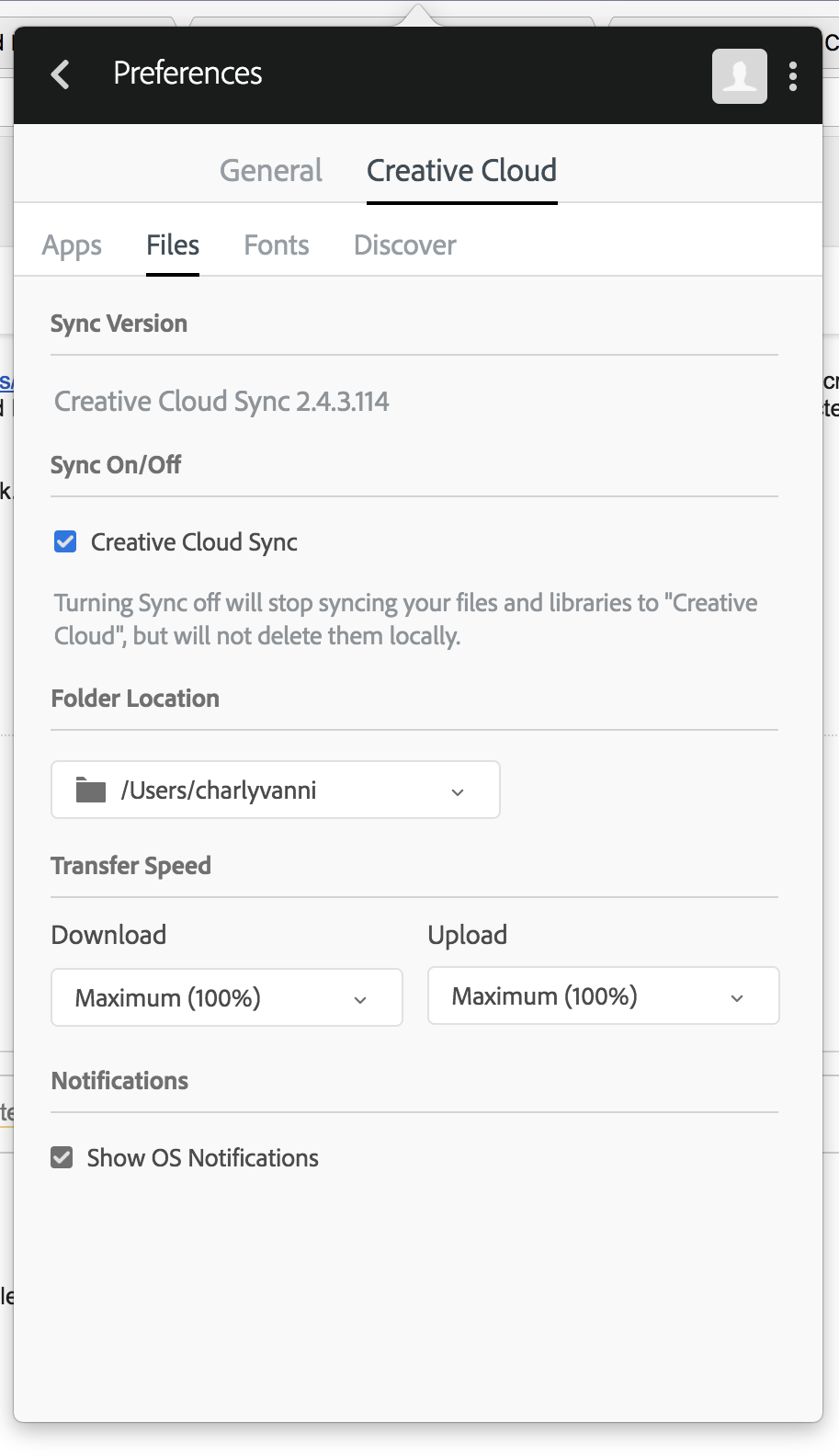 Go to the Adobe Exchange Marketplace and search for IntelligenceBank. The IntelligenceBank Creative Cloud Connector will come up as a result.

Alternatively, you can access the connector product page directly here.
On the connector product page, click Free on the top right of the page to start acquiring it. Once completed, the button will switch to Acquired. 
You can track installed plug-ins under the My Adobe Exchange section.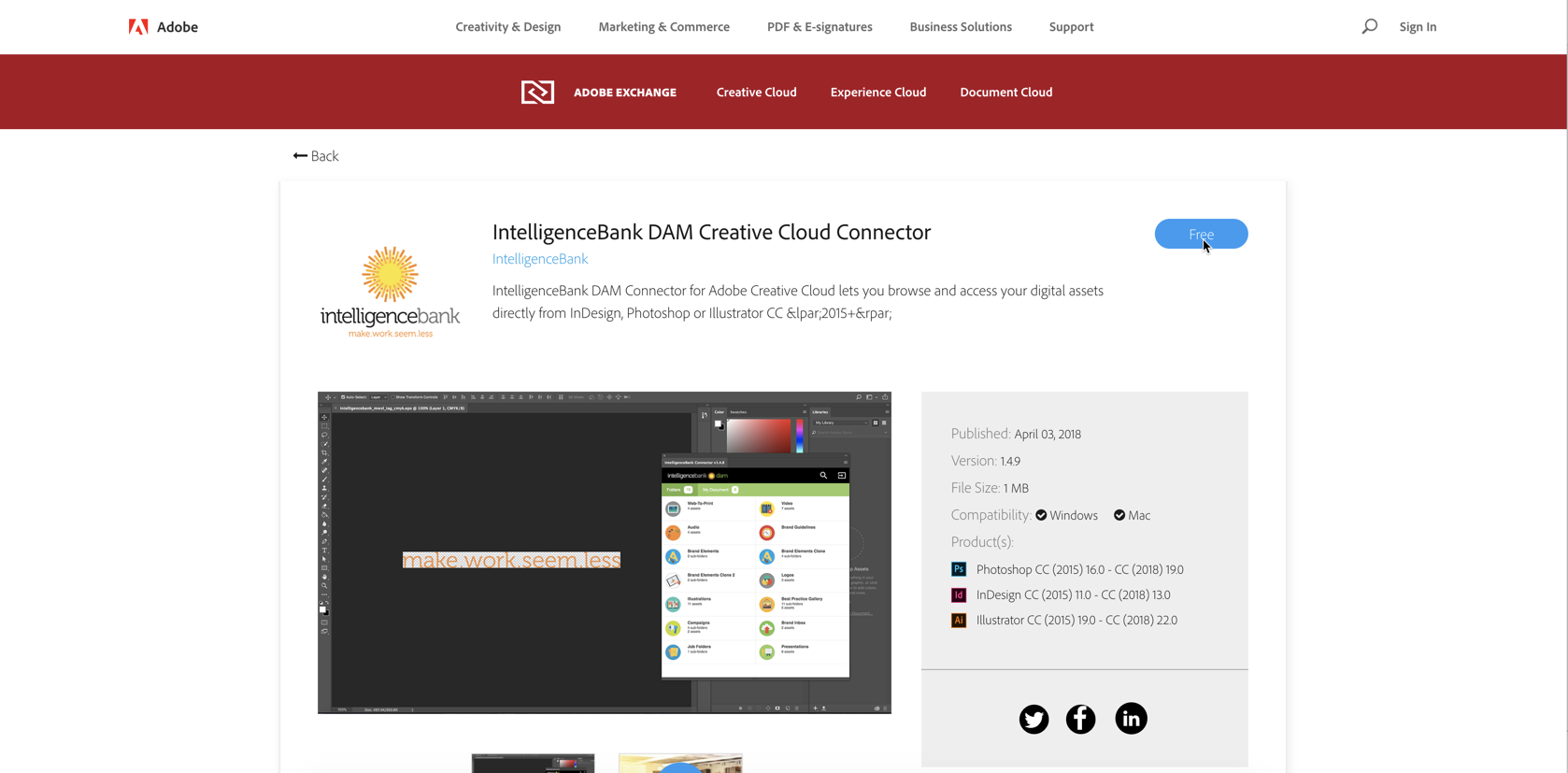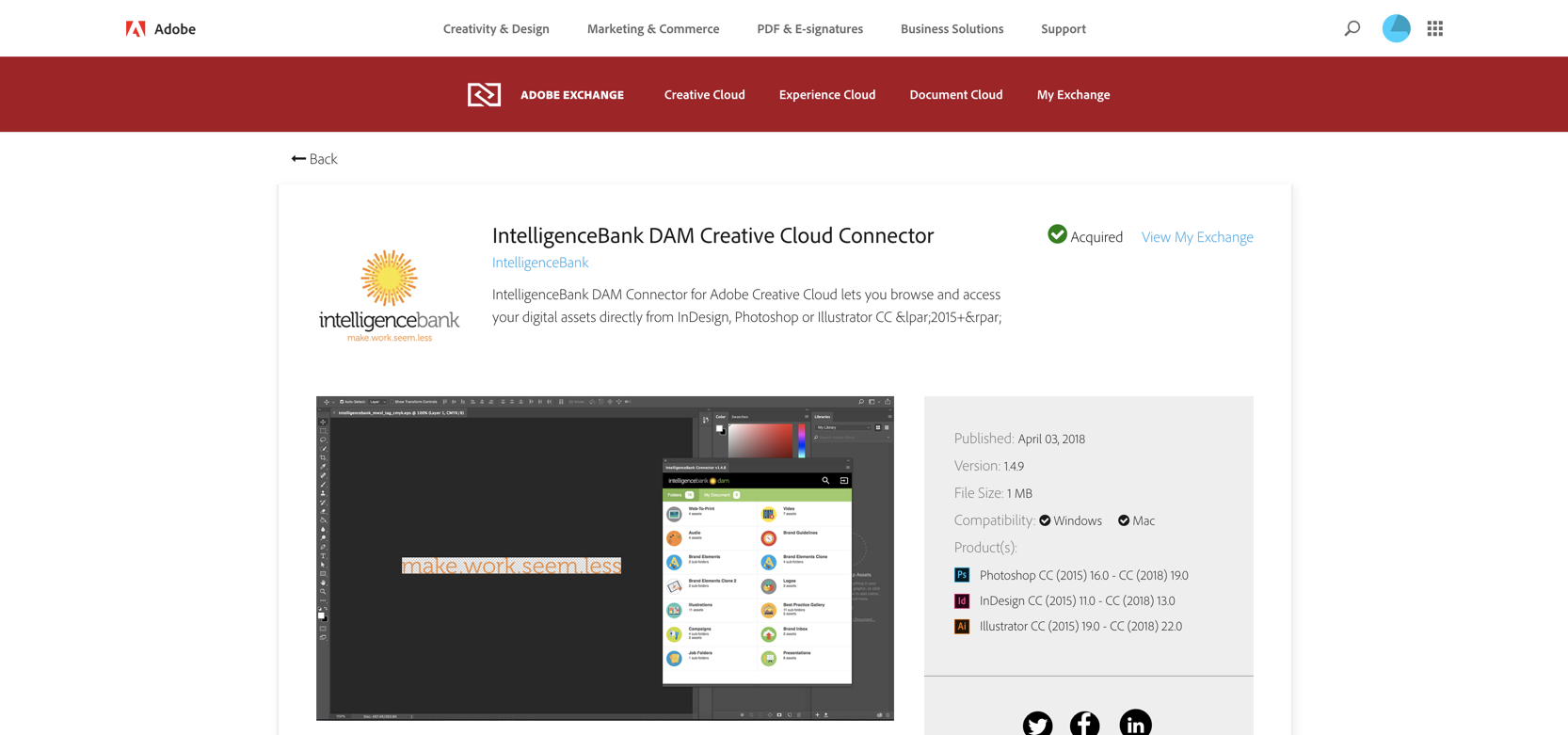 On your computer, login to the Creative Cloud Desktop application that manages all your Adobe softwares and add-ons to start syncing the acquired plug-in. 
Launch your Adobe Creative Cloud application. Under Window > Extensions, select the IntelligenceBank Connector to launch the add-on extension.
See details on the login process further down this page.
If the method above doesn't work, you can visit the Adobe Exchange Troubleshooting Page, or use the manual installation steps below.
Installation Method 2 - Manual Install Using an Installer
The method below is not recommended as all add-ons should preferably be installed and managed directly via the Adobe Exchange platform, as outlined previously. However, if you are unable to use this method, you can try a manual install instead as per Adobe's instructions here.
Download the plug-in file directly from this page.
Use an add-on installer provided by a third-party software to manually install the add-on:
Note: other extension management solutions available for Adobe Creative Cloud can be used. However, note that the native Adobe Extension Manager tool has been discontinued by Adobe since the launch of Adobe CC in 2015. It will therefore not work for installing this add-on manually.
The steps and screenshot below use the Anastayi software as an example. However, IntelligenceBank cannot guarantee that this software will continue to work over time nor provide support for it.
Once installed, launch the extension manager, and click Install. Then select the IntelligenceBank Connector XZP plug-in file downloaded from the link above or provided to you by your Customer Success Manager. The installation will take no more than a few seconds.
Please ensure your Adobe Creative Cloud applications are closed when Installining the IntelligenceBank Connector.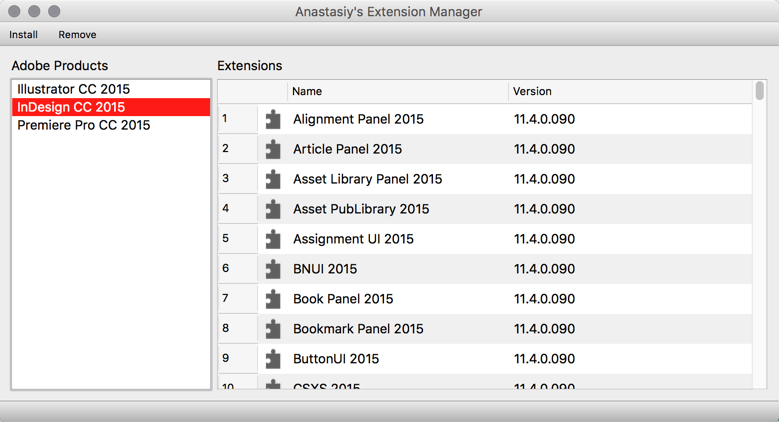 After the install is completed, launch your Adobe Creative Cloud application. Under Window > Extensions, select the IntelligenceBank Connector to launch the plug-in.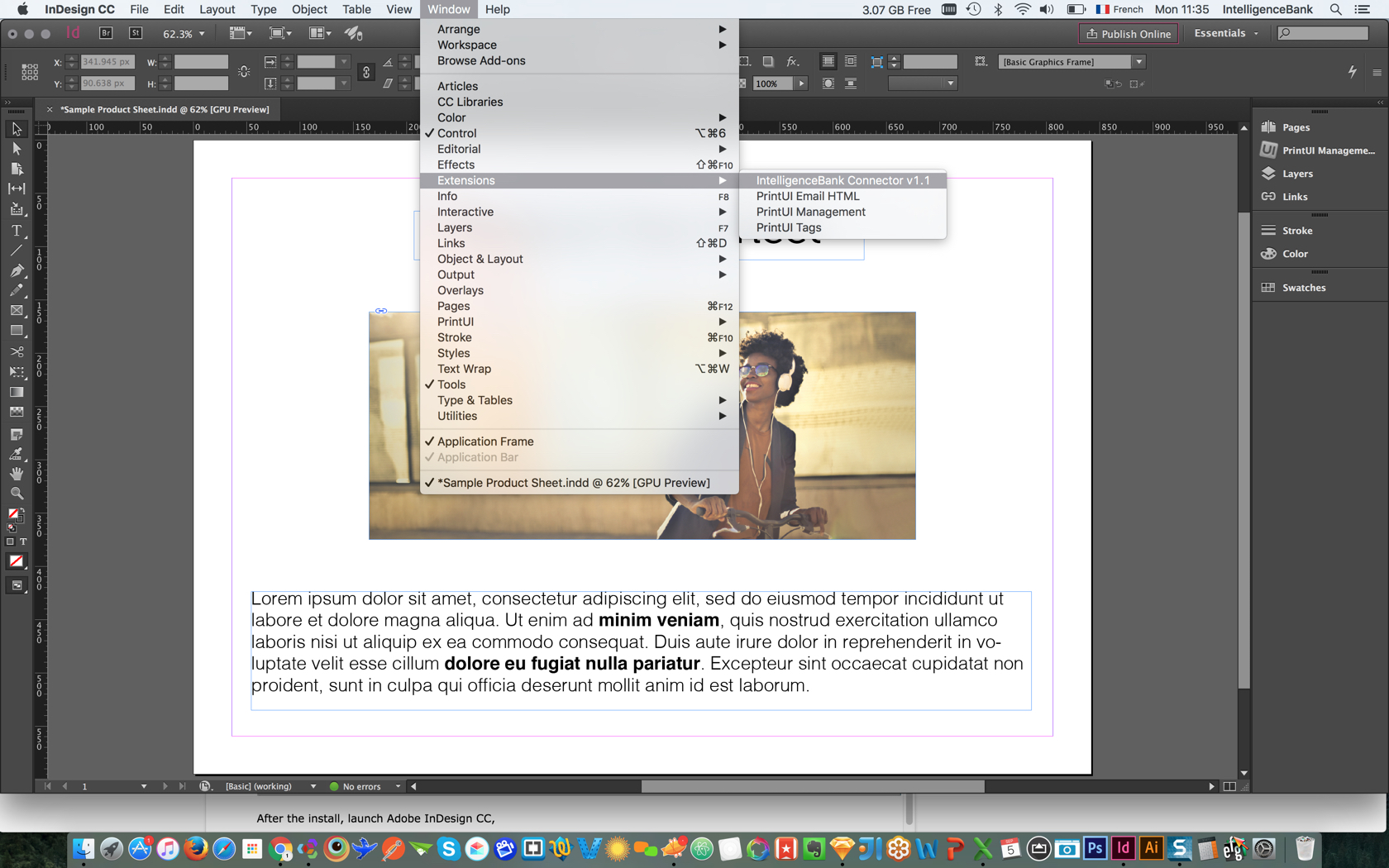 Login in to your IntelligenceBank DAM
When opening the extension, the login screen will then come up.
For the API URL field, enter the value associated to where your platform is hosted: apiau if hosted in Australia; apius if hosted in the United States; apieu if hosted in Europe. If you are unsure, please contact your Customer Success Manager or helpdesk@intelligencebank.com.
Then enter your platform URL, username and password to login and start browsing your assets.
Note that the Connector must be enabled on your IntelligenceBankDAM/IntelligenceBank BrandHub platform.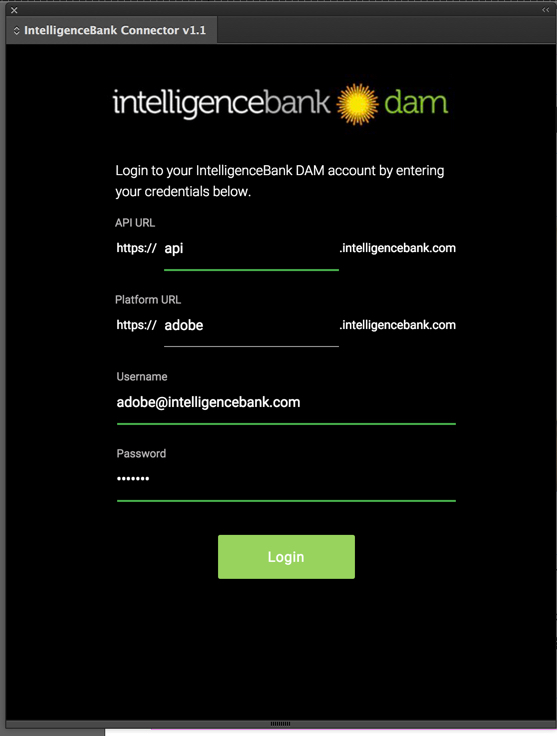 NOTE: The connector has been optimized for Adobe InDesign CC 2018 +. If you are using a previous version of Adobe CC, please update to the most recent version. The IntelligenceBank Connector is not supported for Adobe Creative Suite (CS1 to CS6) or Adobe Creative Cloud 2015-2017.