Each user can set up and save Filters within their Workflow Request List to allow quicker access to the Requests they most often need to see.
A typical example would be to save a Filter where they are a Reviewer for a request that's Status is 'Pending', so upon opening the Workflow Request List (in your 'Workflow' or 'Approvals' tab) they will always first see the items that they need to review in their list.
Saving a Default Filter
To Save a default Filter set-up within your Workflow Request List simply select all the filter values you want to see in your default setting - such as Requester, Approver, Status, etc.
Once all your required values have been selected click the Save as Default checkbox.
Now click Search. This action will both run a live filtered search as well as save this for you so next time you access this page the filter values are automatically applied.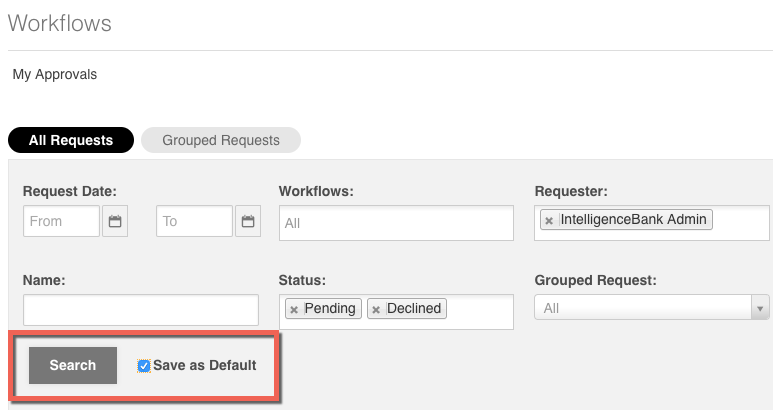 At any time you can update your default filters, or change them 'on-the-fly' as required.
Email Link Override
Note that links from Workflow Request Emails can temporarily override these settings and display only that specific Request. From there you can re-select your filters 'on-the-fly' to broaden the results, however note that the next time you click directly back into your Workflow Request List you will see your Saved Filters have been restored.
* Please note that some of the terms used above such as Workflows & Approvals are customisable and may appear differently in your platform.

Related: