Your IntelligenceBank platform has the intelligence to know if you are uploading a file that already exists on your platform, and a Duplicate File Warning will appear upon upload of such a file.
This is an smart way to save clutter on your platform, and keep files limited to 'one source of truth'.
The duplicate check will look for files that are exactly the same, even if the file name differs.
The pop-up warning will alert you as to where the file otherwise resides: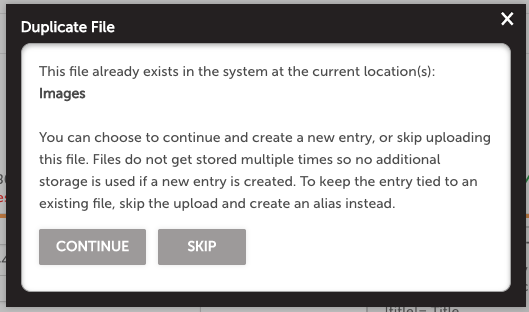 You then have the choice to Continue and upload the duplicate.
Or you can Skip the uploading of this file.
When Bulk Uploading you will see this pop-up file for each file that has been found to be an existing file.

Note however the system does not check this against the other files within the bulk selection you are wanting to upload (as these are not yet on the system to check against).
----------
Because the duplicate check looks for files that are exactly the same, please note the following may occur:
- If uploading a 'word doc' and there's a single word difference within the word document between the existing file on your platform and the new file you are uploading, this will be treated as a different file.
- Likewise, images may appear the same, but if the the size/dimension of the file is even slightly different this will be treated as a different file and uploaded without this a warning.



Related: