Once a Record has been saved or submitted & approved, a record can then be edited or Viewed by users with adequate approval. 
Users may wish to View a record if they need to check the information added or learn about a new task they've been assigned. There are a few easy ways to View a record. Note that if you have submitted a record for approval, you may not be able to view it in the Record List page until it has been approved.  

1. View a Record from a Single Database
If your record is within a Single Database, go to your Records List page (ie. the List of Records). Go to the record in the list that you wish to View and click the View icon. A page will then open that allows you to view the record.



Once you're on the View Page, if you have multiple pages in the record, you can browse through these using the tabs on the top left of the page, or by clicking the Next button at the bottom of the page. You can also access your record actions at the top of the page.  

2. View a Record from a Staged Database
Record's that are within Staged databases can also be viewed at any time, as long as you have completed at least one stage.
You can see where the View action is, highlighted below on the Record's list page. 
Once on the View overlay page, you'll be able to View all completed Stages, navigating to different ones via the list at the top of the page. Any Stages not enabled for View will appear greyed out, like Order Details and Stage 3 below. Your Record actions will be along the top right of the page, including shortcuts to Related items and Auto-Created Folders (if applicable). You will also be able to Continue or Revert your Staged database from this page.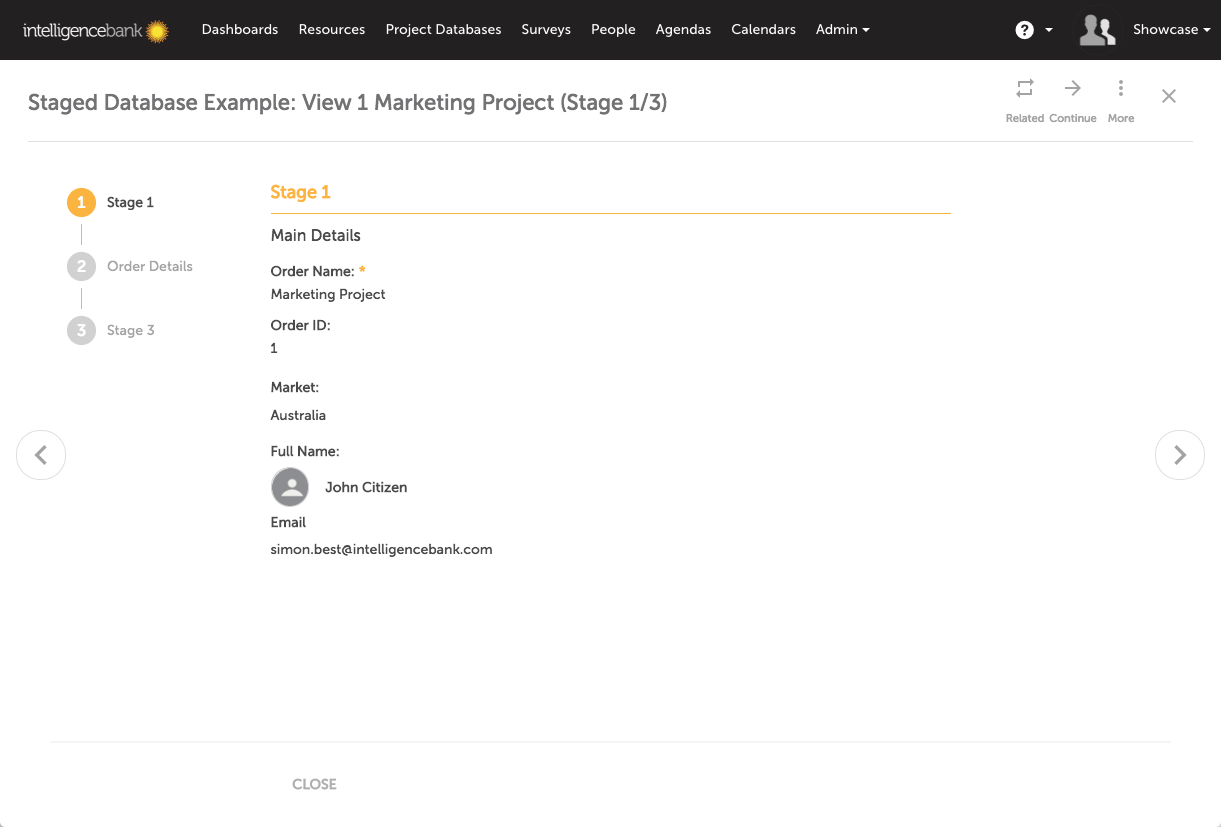 You might also see a link to View a record if it's listed on other modules within the platform. This includes Dashboard widgets and the Stats module. 
To read about Adding a Record, click here.
To read about Editing a Record, click here 
*Please note that the terms 'Database' and 'Record' are customisable and may have already been updated on your platform.