OVERVIEW
The IntelligenceBank Connector for Adobe Experience Manager makes it easy for users of AEM to access and insert IntelligenceBank assets while editing web pages (within the AEM Sites area).
The connector primarily supports insertion of image assets into native AEM image components.
Other file types are currently not specifically supported, though videos should work as per images should your implementation of AEM have a video component (not available natively).
View our Adobe Exchange listing.
SUPPORTED VERSIONS
AEM 6.5. If you are on AEM 6.4. a legacy version of the Connector can be provided. Please contact your Customer Success Manager for details.
INSTALLATION
Click here for installation instructions.
CONFIGURATION OPTIONS
This allows you to choose between using a single "system" user account from IntelligenceBank, which will be automatically used for authentication, and having each user enter their own IntelligenceBank credentials to login to the connector.
This can be configured under:
Tools > Deployment > Cloud Services > Legacy Services > IntelligenceBank Connector
Click on Default (IntelligenceBank Connector Configuration) to enter the configuration page.

And then Edit.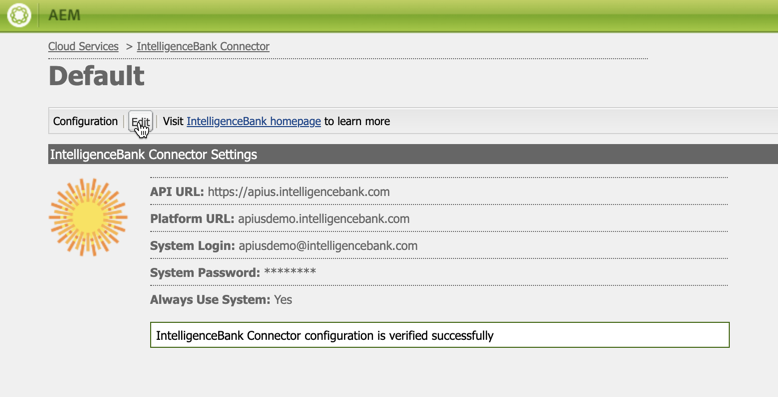 You can then set the System User credentials, or disable Always Use System to enable user level authentication.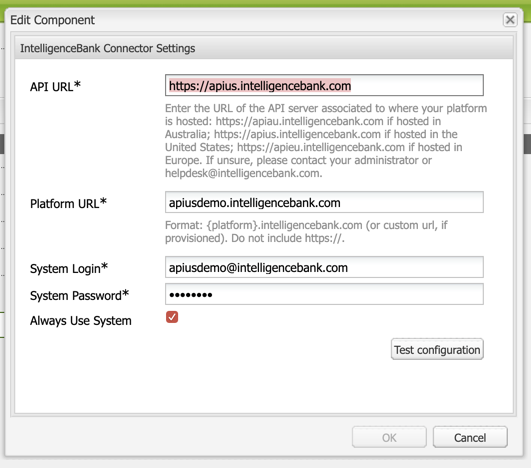 Select insertion mode or update destination folder (optional)
Go to the AEM Web Console Configuration area.
Search for IntelligenceBank DAM, and then click Edit

You can chose to either use Public Links or Downloads. For Downloads, you can choose the destination folder in Assets Manager.
Public Links will create a virtual resource which uses the public link to the image from IntelligenceBank, noting though that Adobe does create its own copy during insertion. To update an inserted link to the latest version, you will need to Edit the page and re-publish it in AEM.
Downloads will create a copy of the asset in the Assets Manager part of AEM, which is were digital assets are managed locally.
To use Downloads, turn on Enable download mode.
To change the destination folder for downloaded assets, update the Assets path field.


INSERTING INTELLIGENCEBANK ASSETS WITHIN A PAGE
Go to Sites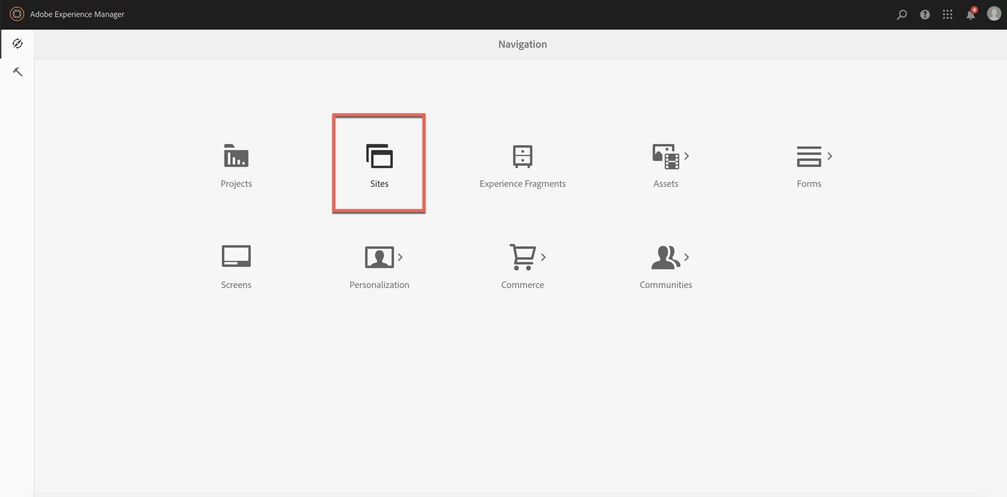 Click on the pages container (1), and click through the structure until you reach the page you wish to edit (2), then click on the thumbnail to make it active (3), the top menu bar will change and display actions, click Edit to open the page editor (4)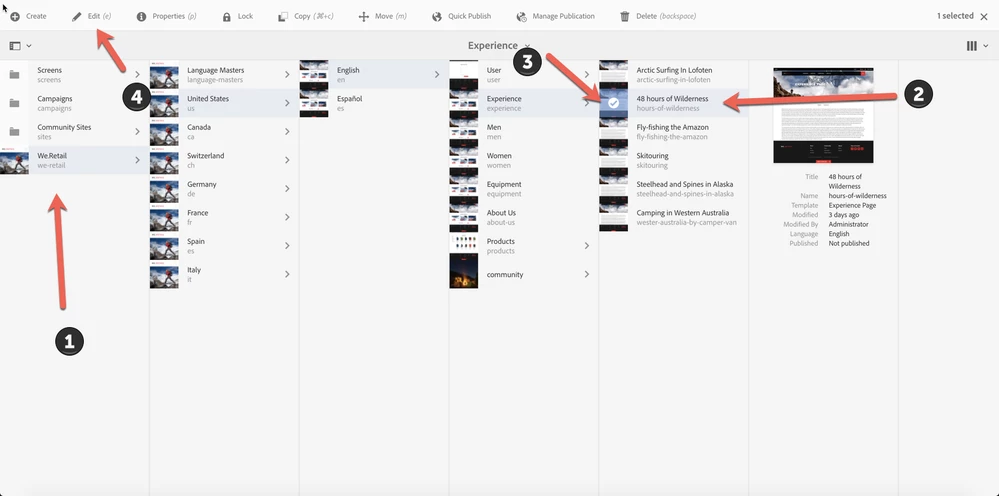 The page editor will load. Click Edit on the top right to display the side panel (1), and then on the IntelligenceBank logo icon to load the connector (2).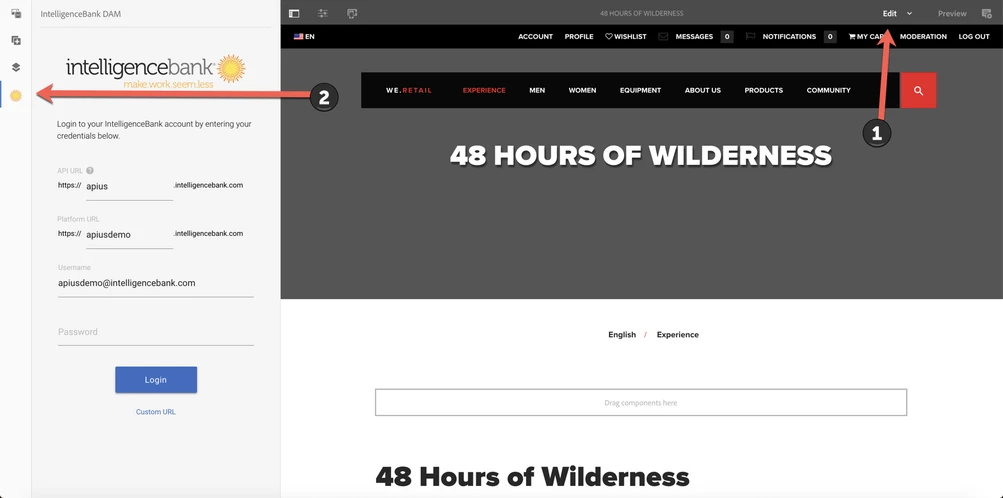 Login to your platform (if user level authentication is required, otherwise the system user will be authenticated automatically) and browse to the desired image.
Then, click on a supported component on the page (typically components that refers to "Image" in its name when you hover over it) (1). This will reveal the options menu, click on the settings icon on the left (2).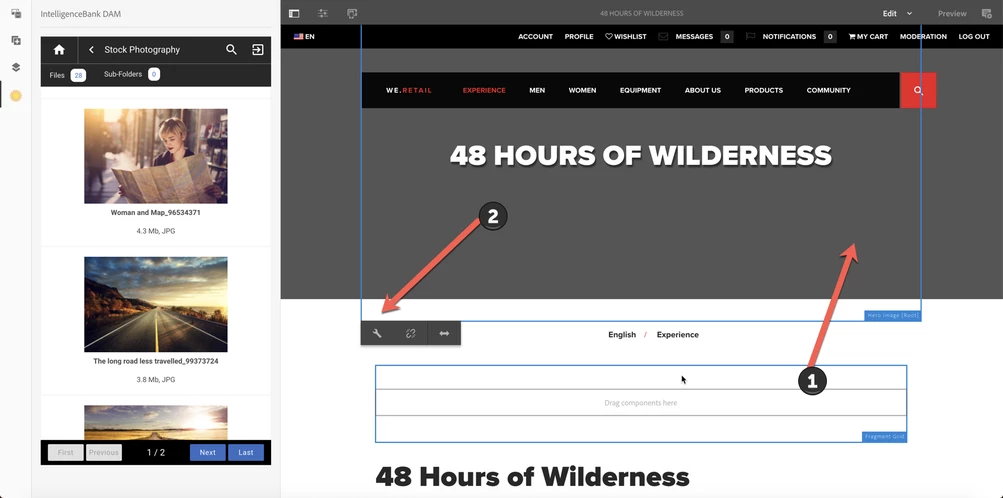 Then, simply drag and drop the image from the IntelligenceBank connector (1) onto the popup menu (2), and click the Check icon to validate (3). The image will populate instantly.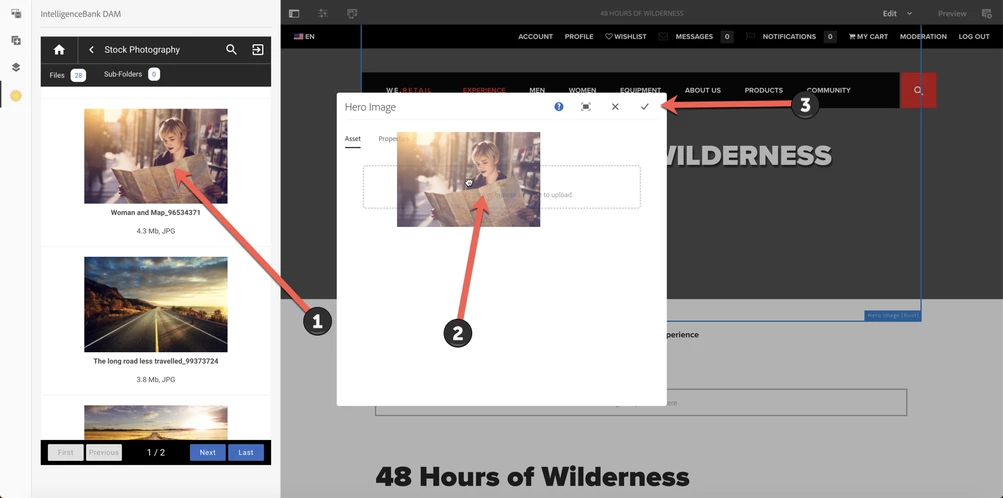 If you have any questions about the IntelligenceBank Connector for Adobe Experience Manager 6.5, please contact your Customer Success Manager or email us at helpdesk@intelligencebank.com.