Markup Comments allow users to add Annotations and Comments on a file; providing specific feedback about Resources that need to be reviewed or approved.
URL's can also be reviewed, allowing users to get approval on website changes or the latest newsletter that will be sent out to consumers. Links that have animations or other live elements can also be viewed, making it easy to review the item as the target user would.
This article contains an overview of those aspects of Markup Comments that are specific to URL's (for those supported for Annotations). Click on the items below to jump to a specific section:
URL Support & Restrictions
There are some restrictions for URL's which could impact on their ability to be displayed and annotated:
Full URL support is currently only available on Publish Approval Requests. Feedback Approval support will be added in future.
Only URL's which can be displayed in an iFrame can be viewed. Note that this may be a setting which might need to be enabled when creating the link / webpage.
The URL must be publicly accessible. If the links content is behind a login for example, it cannot be viewed.
The link should be a secure link, containing for example "https" not "http"
There are some outstanding issues when Viewports are enabled on a website. If you have any issues with these, please contact your Customer Success Manager for more information.
Adding a URL Revision
When adding a URL Revision, the previously entered link will automatically be added to the New URL field once you have clicked Add Revision.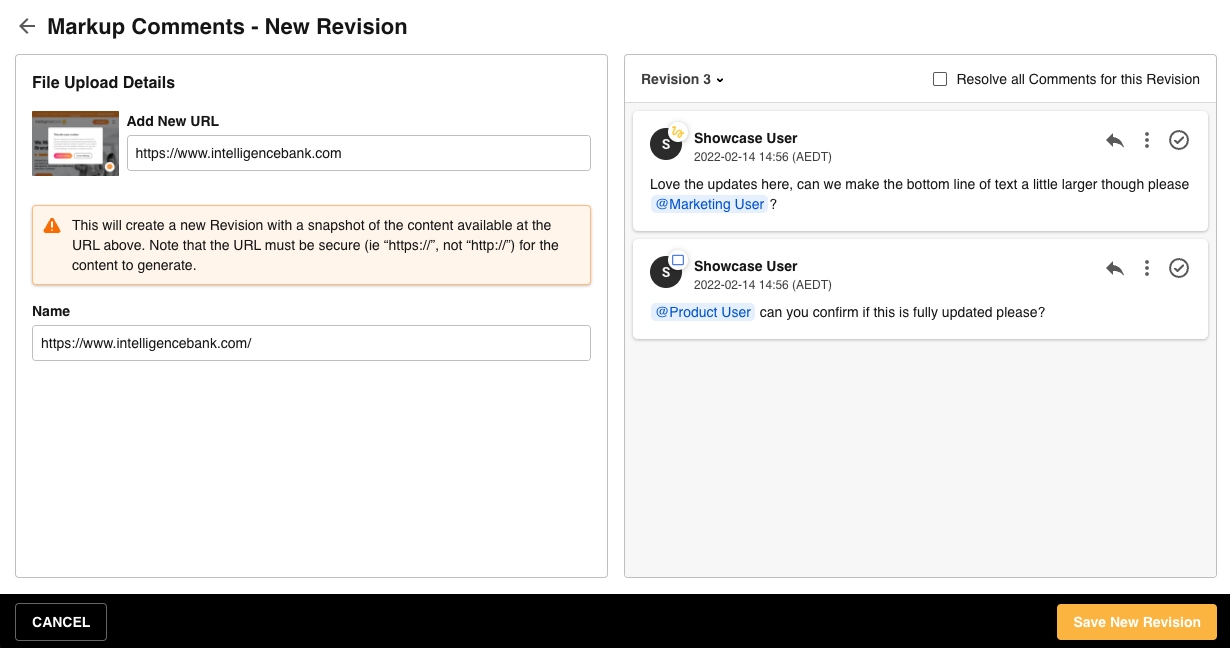 Once the "Save New Revision" button is selected, a snapshot (screenshot) of the "old" revision will now be generated as a PDF, allowing you to update the same URL whilst maintaining an accurate history of the changes made to the link.
The Previous Revisions will also display the Annotations and Comments, allowing these to be resolved as required.
Any previous Revisions can also be Downloaded as a PDF file, whilst the current Revision has an option for the user to directly access the URL, if they wish to load it in the browser instead.
Note that the functionality above will only be available for current or future revisions / requests.
Other Markup Comment articles available include: Markup Comments Overview, Markup Comments Support, Access & Restrictions, Markup Comments & Annotations, Add New Versions / Revisions in Markup Comments, Instant Alerts (Markup Comments).