The Markup Comments page allows users to add informal feedback on a Resource or file involved in a Resource Feedback or Publish Approval request. This is a separate area within the Review Request action, allowing the Request to remain in Pending whilst discussion and updates are made to the file in Markup Comments.
There are different Markup Comments & Annotation options depending on the file type involved. These are expanded on below. Users can also add New Versions or Revisions of the file when the request is in Pending. This will allow you to make changes based on the feedback receive and update the file without having to begin another request. You can read more about adding New Versions or Revisions here.
Once the Markup Comments page is loaded, users will see the Preview of the file on the left of the page where they can add Annotations. On the right side of the page they will see the Markup Comments Panel and all Comments added to compliment the Annotations.
Please note that all Markup Comments functionality is only available via Resources Publish & Feedback Requests and is unrelated to other Annotation options in other Modules.
This article contains a guide as to how to use Markup Comments & Annotations. Click on the headers below to jump to that section.
Markup Comments Panel
The Markup Comments Panel will by default always be open on the right side of the Markup Comments page. Here you will be able to view your Comments, Edit / Delete / Reply to them, Add new General Comments and Save your Annotation Comments.
Once Markup Comments (with Annotations) have been added, clicking on the Comment will highlight the corresponding annotation, updating your Preview to the location of that annotation.
Comments are typically ordered by the date the Parent Comment (the first comment in a thread) was created (from Oldest to Newest). For Documents this updates to by Page and for Videos it will be based on the time from 0- the end of the video.
To Open or Close the side panel, click the Comments icon in the Preview area. You can see this icon highlighted below.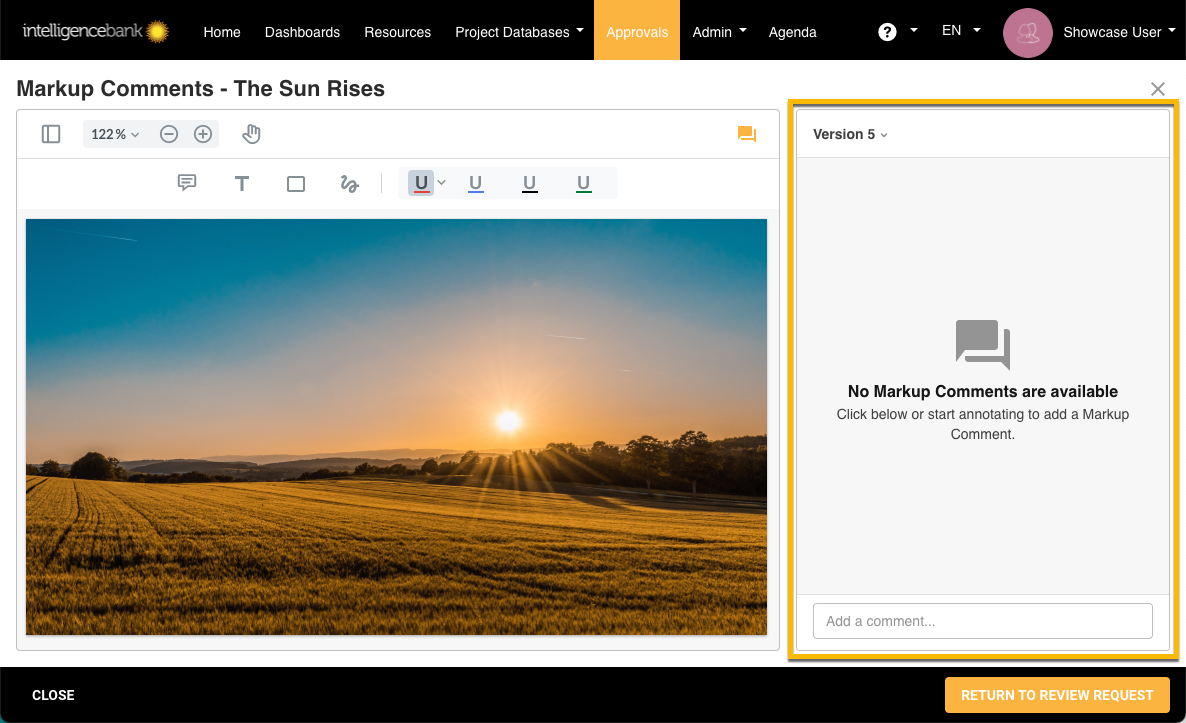 Browsing & Adding Versions / Revisions
At the top of the Markup Comments panel will be a dropdown menu (as indicated below). Depending on whether your request is a Publish Approval or Feedback Request, this will say Revisions or Versions respectively. You can click on this dropdown to view a list of Revisions / Versions that are applicable to your Request.
Clicking on a Revision / Version in the dropdown will load that Version of the file and it's respective comments.

An Add button will also appear at the bottom of this dropdown (pictured below), allowing you to Add a new Version / Revision within the Request. This means that you will be able to make the changes requested in the Markup Comments and upload the updated file, without having to begin a new request.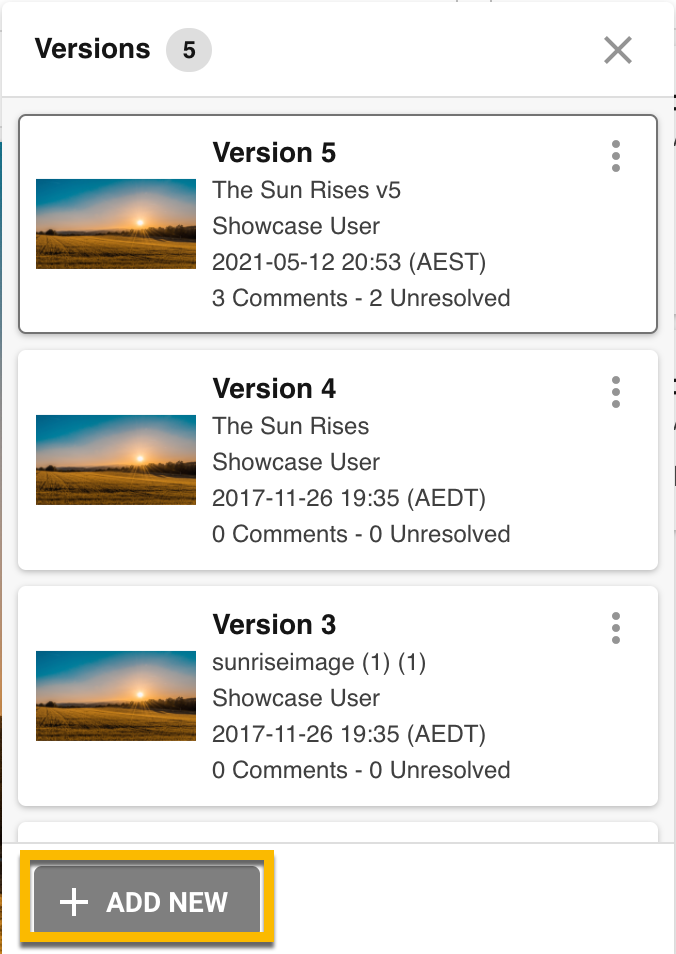 This will only be available in certain scenarios, most importantly it will only appear when the Request is in Pending. You can read more about this feature here.

Who Can View My Comments & Live Updates
If a user can access the Markup Comments page, they will be able to view all Comments, Annotations and Replies added by any user. This will apply at any time during the Request and will continue once it's completed, allowing those involved to review the Markup Comments activity for that Resource. Typically this will include users participating within the request (the Reviewer & Requestor) as well as Main Admins and Workflow Admins.
Only when a request is Pending are users able to add or edit content. Once the request is Completed (in any status), all input options are locked and participants can only View what's occurred.
For Pending Requests, any changes to any Comment, Annotation, etc will be immediately available to all Users (within a 5 second timeframe). Users will not need to refresh their page to see updates to Comments or Annotations. This includes replies, allowing users to have a conversation about a piece of feedback. As you can see below, once the Product User has added a Comment, other users can reply to that comment or to replies within in, as well as adding their own comment.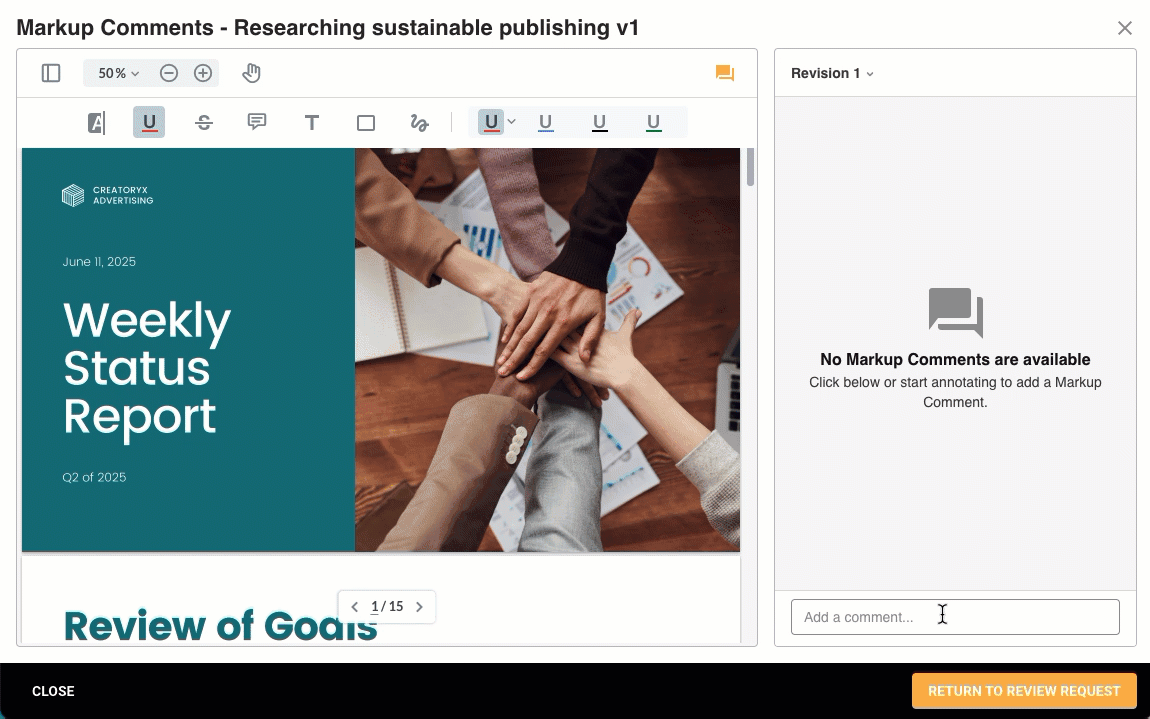 If a New Revision or Version is added, this will also update, but users will need to navigate to the new file via the Revision / Version dropdown. You can read more on this below.


General Comments
General Comments are comments added without an Annotation. To add a General Comment:
Open the Markup Comments Panel and look for the "Add a comment box" that appears at the bottom of it.
Add the comment in the text box.
Click Save to save your Comment. Once this is done all users will be able to view your Comment.
You can see an example of this below: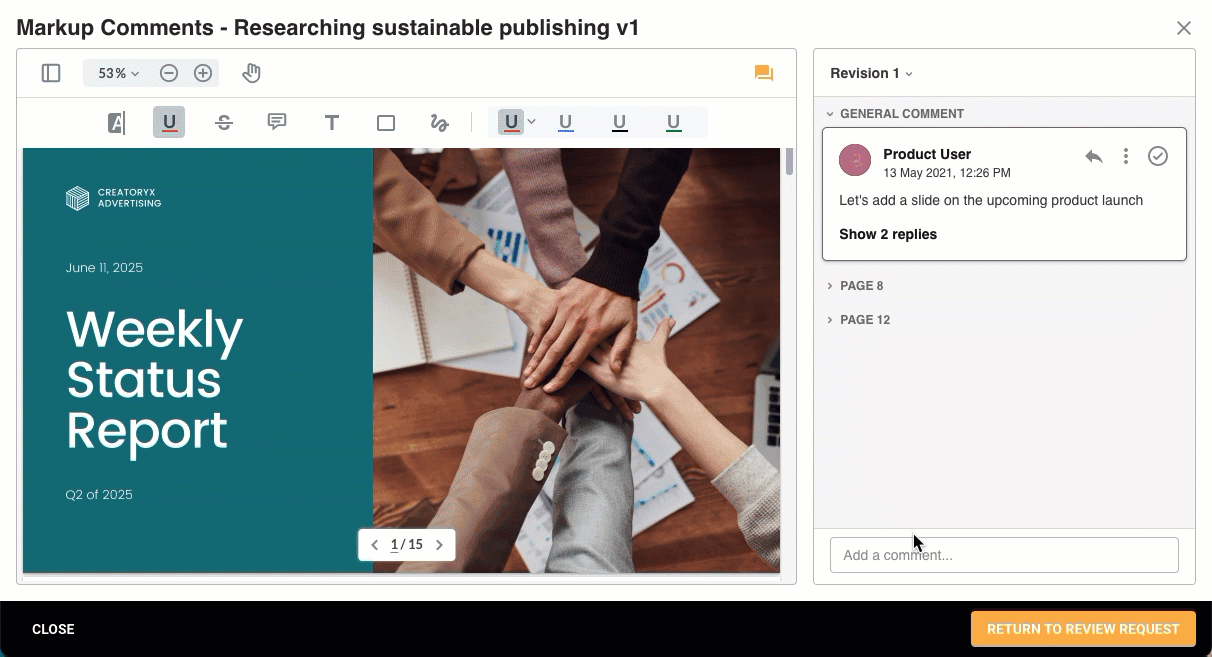 Note that for Video and Document files (as seen above), General Comments will be added into specific "General Comments" section(s). This is because any Markup Comments & Annotations added for these options are grouped by Time or by Page. For Image files, they will appear based on the Date / Time Created.


Markup Comments & Annotations
Annotations must always be added with a Comment, ensuring the feedback about your Markup can be understood and followed by all. The general method of adding an Markup Comment & Annotation is the same for all options, though some annotations have additional features which are listed below.
Adding an Annotation
To add an Annotation, complete the following steps. You can see this demonstrated below as well:
Select the Annotation Type in the row just above the file preview.
If you need to customise the styling of the Annotation, you can select the options in the Presets panel on the right.
Draw/Select the area of the Preview you wish to add your Markup too.
In the Comment box, add any required commentary about your Markup.
Click Save on the Comment to save both the Annotation and the Comment (noting that it is a requirement that an Annotation cannot be added without a Comment).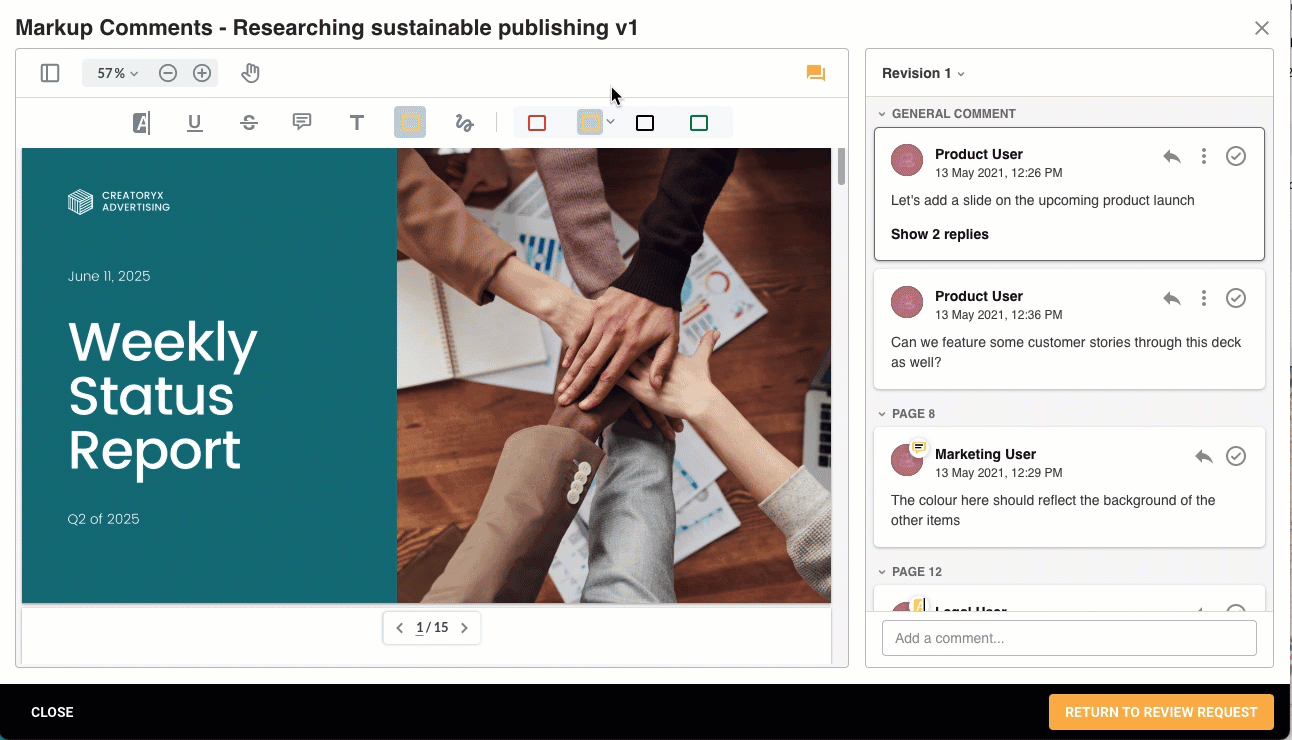 Annotation Presets
All Annotation types have Preset options. This allows you to customise styling aspects of the annotation like colour, weight, etc. These are available via dropdown menu's to the right of the annotation selection. Clicking custom will allow you to select a custom colour via a colour box.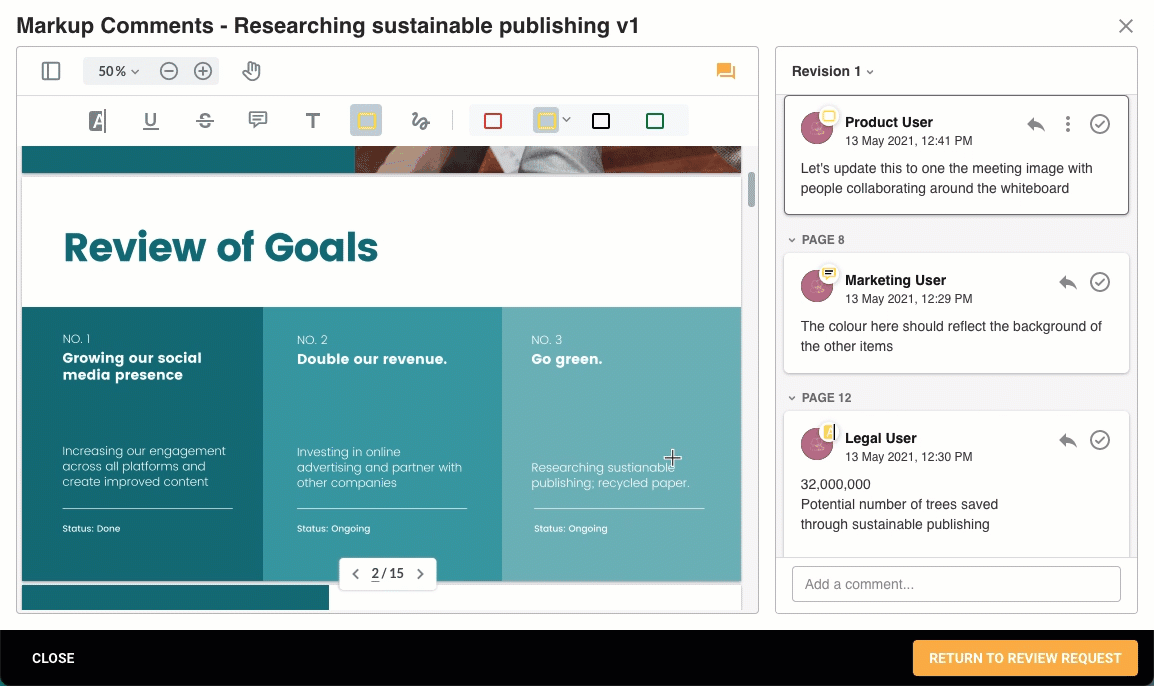 Once your annotation has been saved, the colour & icon reflecting the type of Annotation added will be indicated against the Comment:

You can also edit the styling of an Annotation once it's been added on the Preview itself. To do this, simply click on the Annotation and the palette icon that appears (as demonstrated above).
General Annotation Types - Comment, Free Text, Rectangle & Free Draw
The Annotation Types below are available on any file which supports Markup Comments. They function the same on all annotations. Remember that for all of these, you need to add a corresponding comment before you can save both selections.

Comment Annotation: The Comment (or Pin) annotation, allows the user to add a Comment icon to a specific area of the file Preview.
Free Text Annotation: This allows the user to add text in a text box directly on the Preview. Note that by default, the content added here will also be added to the corresponding comment in the Comment panel on the right. Once that entered comment is edited in the Comment panel, it will no longer update with any changes to the Annotation comment.

Rectangle Annotation: The user can draw a rectangle over any area of the preview.

Free Draw Annotation: This allows the user to free draw any shapes over the preview. Note that you can draw multiple shapes within a 2 second timeout limit. After that point, any new drawing will be added as a new Annotation.
Editing or Deleting an Annotation
Users will only be able to Edit or Delete an Annotation if they have created it (the same restrictions as for Comments). Editing Annotations include moving or altering the Style of the annotation.
Document Markup Comments
Document specific Markup Comments & Annotations are available on all PDF files where text is selectable. Ie it will not be available if you scan a Document and then upload it. The annotation options listed below all function the same way.
Once you select an area of text, the contents of which will then be added to the corresponding comment by default.
Document Markup Comments & Annotations are grouped by the Page the annotation is added or, or into a General Comments section.
As well as the General Annotation Types, the additional Document Annotations include:
Highlight Text: Allows the user to Highlight blocks of text.
Underline Text: User can Underline blocks of text.
Strikethrough Text: User can Strikethrough blocks of text.
Note that for all of the options above, you will not be able to select text over multiple pages in one action.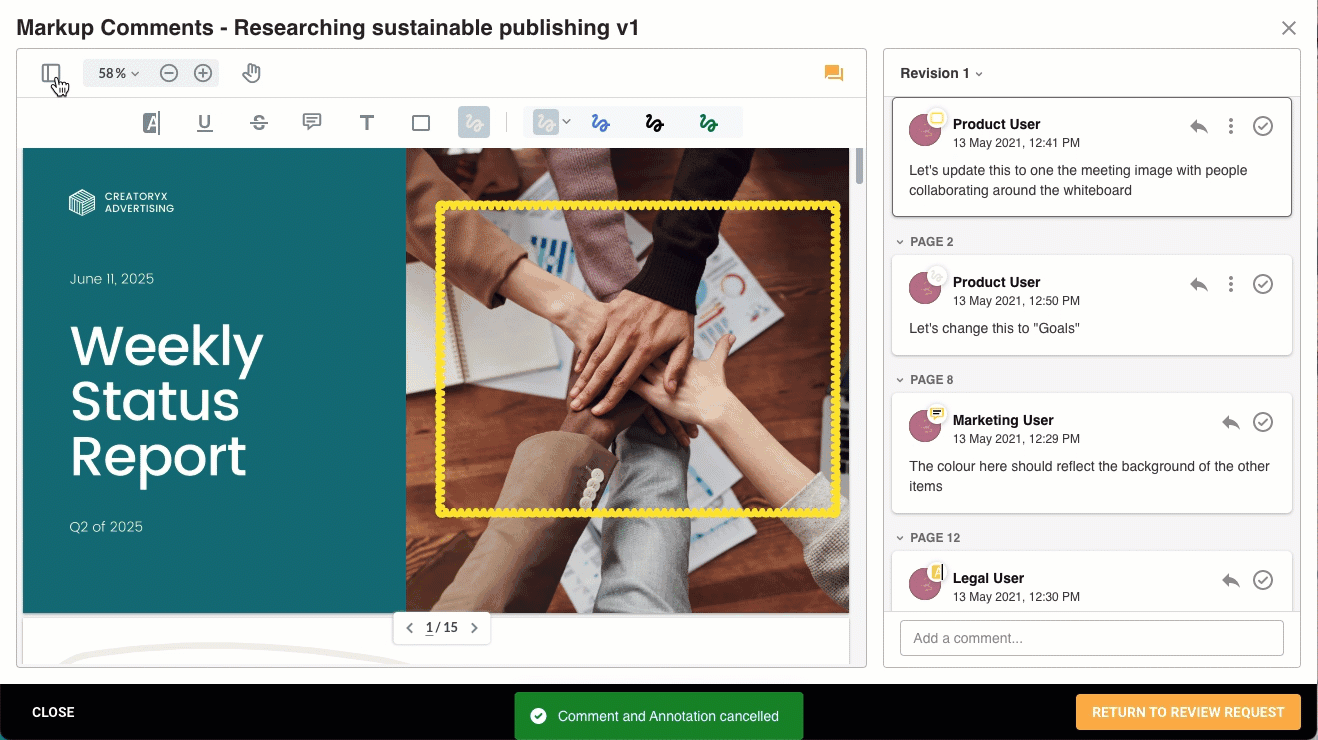 Comment Actions
This section includes all actions that are supported on the Comments within the Markup Comments Panel. The options will be dependant on the Status of the Comment and who created it.
Edit & Delete Comment
The option to Edit or Delete a Comment is only available to the Creator of the Comment (& thus the Annotation). This can be accessed via the more menu on the right of the Comment box.
Editing a Comment will display an "Edited" tag on the Comment, whilst Deleting a Comment will delete the Comment, all Replies and any related Annotation. Users can also choose to receive alerts on these actions.
Resolve / Unresolve Comments
The Resolve / Unresolve action (indicated below) allows you to indicate whether the feedback that has been added in a Comment has been addressed or not. This essentially treats each Comment as a task, ie an item to be addressed. Once the feedback within the Comment (& Replies) has been addressed, any user who can view the comment will be able to mark it as Resolved. They can also then Unresolve it if required.
Once a Comment is Resolved, users will not be able to edit or reply to the Comment or Annotation, though they will still be able to view any replies. Users can also choose to receive alerts on both Resolve and Unresolve.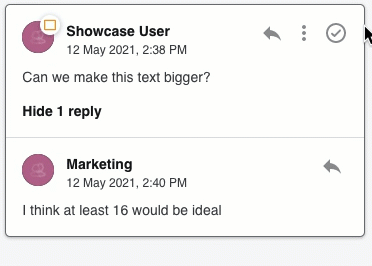 Reply to a Comment
Users involved in the Request (or Main / Workflow Admins) are also able to Reply to Comments. This allows a user or multiple users to give feedback on an item. There is no limit to the number of Replies that can be added to a comment and these should be available to other users within seconds of saving them.
General Comments and those added with an Annotation can both be replied to. In this instance, the original comment will always become the Parent Comment and all Replies will be listed beneath it. If you wish to start a new Comment thread, simply add a New General Comment or Markup Annotation.
To Reply to a comment, click the Reply icon in the comment and add your response to the Comment footer bar at the bottom of the Markup Comments Panel. Once this is done, click Save to post your Reply. You can choose to receive alerts when a reply is added, or restrict it to when a reply is added to your comment.
A Comment's Replies can be hidden or shown via the Show / Hide Reply text action.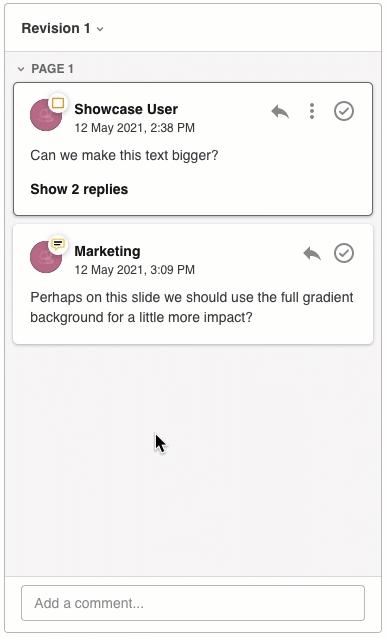 Reference a Comment in Reply
In addition to being able to Reply to a Parent Comment, you can also reference a Reply. This is useful when you need to refer to another users Reply and allows you to do so without needing to state it in your own comment.
To do this, click the reply icon Reply on the Reply Comment. In the Comment Footer box at the bottom of the page you will then see the text of the Reply and an indicating "Replying to John Smith" of who you are replying to. Add your Comment to the text box and click Save. Once this response appears, your Reply will also reference the Reply you are referring to. You can see an example of this below: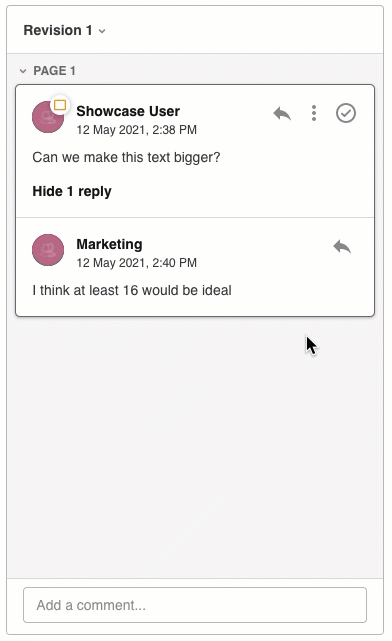 Saving Markup Comments
As soon as a General or Markup Comment is saved, it automatically appears for all users and will be saved within the information associated with that Approval Requests. Users are not required to submit the Review Request on the Markup Comments page, nor will they lose work after exiting the Markup Comments page.
---------
Other Markup Comment articles available include: Markup Comments Overview, Markup Comments Support, Access & Restrictions, Markup Comments & Annotations, Video Markup Comments & Annotations, Add New Versions / Revisions in Markup Comments, Instant Alerts (Markup Comments).
To read more about Approvals click here.
Please note that the 'Approvals', 'Admin' and 'My Account' terminology referenced above may appear differently in your platform as these are customisable terms. You can view related terminology here.
If you have any further questions about Markup Comments, please contact your Customer Success Manager.