The Image Auto-tagging feature automatically attributes keywords to images, scanning for relevant keywords that match the image.
This feature is simple to enable, only requiring a quick change in Admin -> Settings.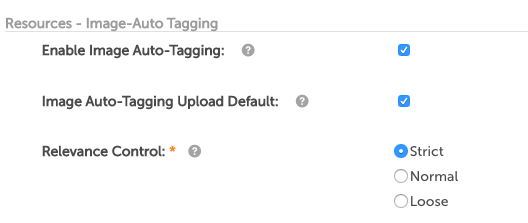 To enable, click the checkbox called Enable Image Auto-Tagging.
There is a choice to elect whether to make it the default setting so it will automatically occur when an image is uploaded.
If not selected, this option will still allow your users to be able to select an Auto Tag button in the Upload area that will activate the function on an upload-by-upload basis.*
Platform Main Admins can also select the level of relevance of the tags. A strict relevance will usually make the tags more specific and less numerous.
When uploading an image, auto-tags are loaded in the same field as your normal keywords. They are easy to add, remove and view.
Note that only the following file formats can have the auto-tags instantly generated during the upload process (should the option be enabled under Admin > Settings): 'jpg', 'jpeg', 'png', 'bmp'. Other file formats will have the tags generated post upload once a preview image has been generated.

* Tags for each client are currently limited to 1,000 calls per month. (1 call = 1 image tagged upon upload or edit). To increase this limit contact us for further information.

Related: