This Feature is an optional add-on. Please contact us for more information.
-----
Two-Factor Authentication is an additional level of Security that is provided as an Add-on within the platform.
If enabled, users will receive a text message with a Verification Code that they need in order to log in.
Consequently, a valid mobile number is mandatory for any users who this applies to. 

2FA is an Admin setting, where you can decide whether to enable it as a User Setting or a Global setting.

If Global - all users require a valid mobile number.
If it's a User setting, there is an option to make it enabled by default for New Users.

For Users, before they can login for the first time, they will receive a verification code on their mobile number (the number entered in Admin > User - Additional Details).
They user then needs to enter & verify this code within 3 minutes to log into the platform.
It is very important that the phone numbers of the users required 2FA is entered correctly under their user profile as users will not be able to login without receiving and entering the verification code.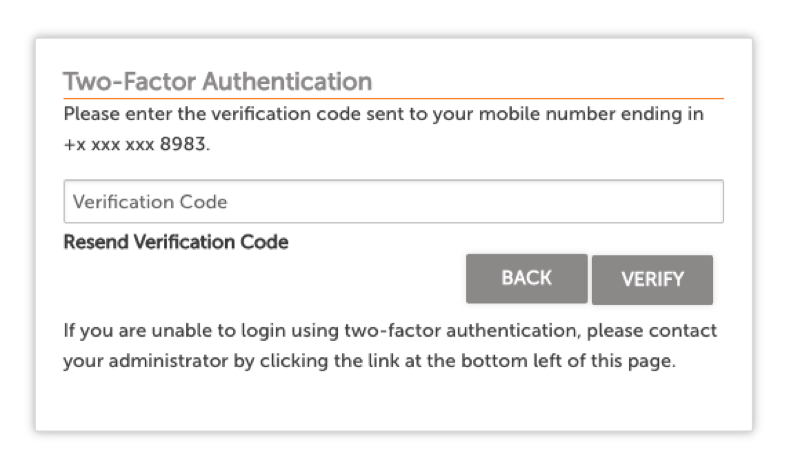 Please note that currently the BoardHub App, Desktop Uploader App, general API or external connectors are currently not supported. 

In order to access these applications, users will require to have 2FA disabled on their account.
List of supported countries (others can be added on request):
China  (+86)
Hong Kong  (+852)
India  (+91)
Israel  (+972)
Japan  (+81)
Korea Republic of  (+82)
Kuwait  (+965)
Philippines  (+63)
Qatar  (+974)
Singapore  (+65)
Taiwan  (+886)
Albania  (+355)
Andorra  (+376)
Austria  (+43)
Belarus  (+375)
Belgium  (+32)
Bosnia and Herzegovina  (+387)
Bulgaria  (+359)
Canary Islands  (+3491)
Croatia  (+385)
Cyprus  (+357)
Czech Republic  (+420)
Denmark  (+45)
Estonia  (+372)
Faroe Islands  (+298)
Finland/Aland Islands  (+358)
France  (+33)
Germany  (+49)
Gibraltar  (+350)
Greece  (+30)
Hungary  (+36)
Iceland  (+354)
Ireland  (+353)
Italy  (+39)
Latvia  (+371)
Liechtenstein  (+423)
Lithuania  (+370)
Luxembourg  (+352)
Macedonia  (+389)
Malta  (+356)
Moldova  (+373)
Monaco  (+377)
Montenegro  (+382)
Netherlands  (+31)
Norway  (+47)
Poland  (+48)
Portugal  (+351)
Romania  (+40)
San Marino  (+378)
Serbia  (+381)
Slovakia  (+421)
Slovenia  (+386)
Spain  (+34)
Sweden  (+46)
Switzerland  (+41)
Ukraine  (+380)
United Kingdom  (+44)
Vatican City  (+379)

Canary Islands  (+3491)
Spain  (+34)
American Samoa  (+1684)
Australia/Cocos/Christmas Island  (+61)
Cook Islands  (+682)
Fiji  (+679)
French Polynesia  (+689)
Guam  (+1671)
Marshall Islands  (+692)
Micronesia  (+691)
New Caledonia  (+687)
New Zealand  (+64)
Northern Mariana Islands  (+1670)
Palau  (+680)
Papua New Guinea  (+675)
Samoa  (+685)
Solomon Islands  (+677)
Tonga  (+676)
Tuvalu  (+688)
Vanuatu  (+678)
American Samoa  (+1684)
Anguilla  (+1264)
Antigua and Barbuda  (+1268)
Aruba  (+297)
Ascension  (+247)
Bahamas  (+1)
Barbados  (+1246)
Belize  (+501)
Bermuda  (+1441)
Canada  (+1)
Cayman Islands  (+1345)
Costa Rica  (+506)
Cuba  (+53)
Dominica  (+1767)
Dominican Republic  (+1809)
Dominican Republic  (+1809201)
El Salvador  (+503)
Greenland  (+299)
Grenada  (+1473)
Guadeloupe  (+590)
Guam  (+1671)
Guatemala  (+502)
Haiti  (+509)
Honduras  (+504)
Jamaica  (+1876)
Martinique  (+596)
Mexico  (+52)
Montserrat  (+1664)
Netherlands Antilles  (+599)
Nicaragua  (+505)
Northern Mariana Islands  (+1670)
Panama  (+507)
Puerto Rico  (+1787)
St Kitts and Nevis  (+1869)
St Lucia  (+1758)
St Pierre and Miquelon  (+508)
St Vincent Grenadines  (+1784)
Trinidad and Tobago  (+1868)
Turks and Caicos Islands  (+1649)
United States  (+1)
Virgin Islands, British  (+1284)
Virgin Islands, U.S.  (+1340)