If you have Review Dates set on your Resources, you are now able to select Actions that will automatically occur once that Review Date has been reached. These actions can:
- Send an Email alert.
- Move the file to a selected folder.
- Delete the file from your platform.
To enable these Actions, you'll need to go to your Admin Settings and click the Enable Review Date checkbox. You will then see a full view of options (pictured below).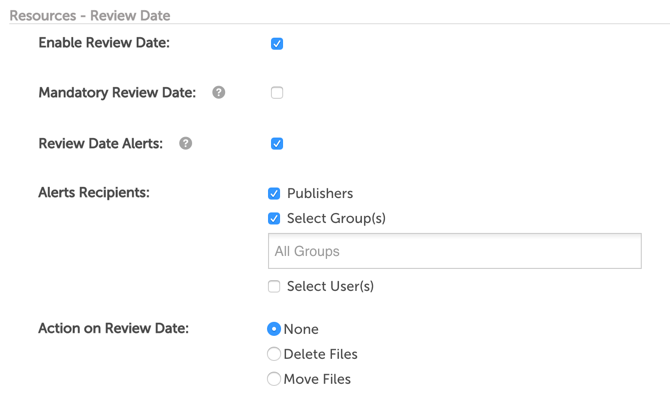 Within this section, the Mandatory Review Date option can be enabled if users are always required to enter a Review Date whenever they Add or Update a file.
Review Date Alerts
To send alerts to specific Groups or Users when a file has reached it's Review Date, head to your Settings and enable the Review Date Alerts checkbox.
Once you enable the setting, you are able to select either the Publishers of the file (Users with the relevant Publish permission), Select Groups (See the Management example above), or Select specific users.
Review Date Actions
To prompt an action on a Review Date, you can select any of the options pictured below. The default option is always None. 

Delete Files
To automatically remove the File from your platform once the review date has been reached, select Delete Files. 
Move Resources
If the file needs to be moved once a review date is reached, for example if you wish to move it to an Archive Folder, then simply select Move Files & choose your destination folder. 

Folder Settings
In your Resources Folder Settings you are able to keep the Actions set in Admin (your Global Defaults) or apply Custom Review Date Actions or Alerts for each Folder.