To search for a user within the platform, access the People menu item. In the search box, type in the users name or click on the letter of their first name. You can also filter users by division.

If you are an Admin user, you can search for a user by going to Admin > Users. Here you can search for users by using either of the methods mentioned above.
You also have the option to filter by a Users Status: Active, Blocked, Suspended, Deleted, Pending, Declined, and Approved Users.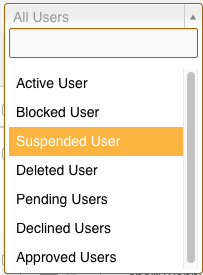 Users with Admin access can also filter your list of Users to find those who have not created a password and thus never logged into the site - handy information to know ahead of platform launches or when doing an audit on your platform users and usage.