Sometimes a Review of a Workflow Request may no longer be needed after it has been submitted. In this instance relevant users can Cancel the request, so it will no longer show as Pending for the nominated Reviewers.
How to Cancel a Workflow Request
To cancel a Workflow Request click on the relevant link in the relevant Workflow Request Email, or navigate to the Workflow Request List (in your 'Workflow' or 'Approvals' tab) and use the Workflow Filters to locate the approval request you wish to cancel.
Under the Actions menu to the right of this approval item, click Cancel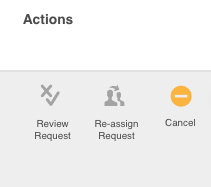 You will have to select Yes in the pop-up confirmation prompt that will appear:

This will trigger a cancellation email confirmation (when enabled for Requester and/or Reviewers), and the Request will then show as Cancelled in your Workflow Request List.
* Please note that some of the terms used above such as Workflows & Approvals are customisable and may appear differently in your platform.

Related:
Save Filter Settings in Workflow Request List