The default setting for all new Agendas is to number all entered agenda items.
This will carry through to numbering sub-agenda items also, as below: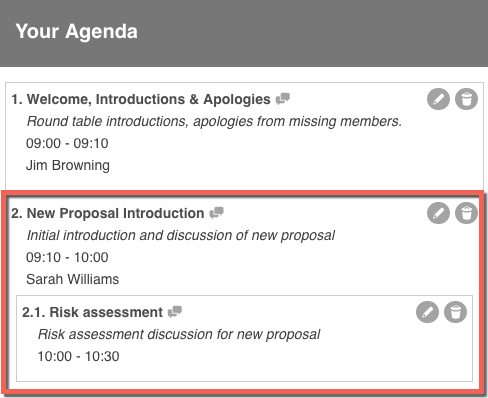 You can of course de-select this option, which you will find down the left-hand-side of the Create or Edit Agenda page.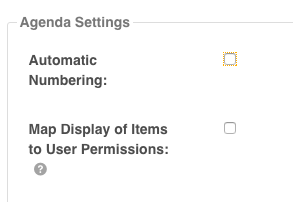 De-selecting the Automatic Numbering will not only remove this from your agenda items but will also then display a new option called Map Display of Items to User Permissions.
If this option is enabled then users will only see agenda items they have access to. This will match whatever permissions they have set up within your IntelligenceBank platform. For example; 'Board Member A' might see all ten agenda items while 'Board Member B' only sees the four that are relevant to them, and they will not even see that the other six conversation items exist in the agenda.
If left disabled then all users will see all the items listed in the agenda, however they will still only be able to preview or download any Resource files added to the agenda depending on their usual access levels within your platform.
Next:
How to Link an Agenda to a Folder
Related:
How to Add a Custom Agenda / Conversation Item
How to Link an Agenda to a Calendar Event 
Board Members accessing the Agenda via the iPad App