There are two ways to commence creating an agenda:
1 - Enter your Agenda module by clicking on the parent Agenda menu*. In Agendas you can click on the Add Agenda button on the top right of your screen to start creating an agenda. There, you can link agenda items to a resource or folder as you add in agenda items. 


2 - Within your Resources folder, you can create an agenda directly. Once in a folder, just click on the Create an Agenda icon to start building your agenda. 
The benefit of this method is that you can then send out an email link to your Board Members that contains access to not only the agenda but all relevant resource files.

The Agenda Builder
The Agenda Builder has a split screen. The left side of the agenda builder is for creating and selecting content.
The right side of the screen is a preview of the agenda - which also gives you the ability to re-order agenda items, and also add times and descriptions to each item. Folders and files from the left side of the screen can be dragged and dropped to the right side.


On the left-hand-side you can add the Agenda Name - where you can title your agenda. You may want to include dates in the title to easily distinguish them in your folders.
You can also Link Calendar Events - link the meeting to an existing event in your IntelligenceBank calendar where an address and a map are displayed.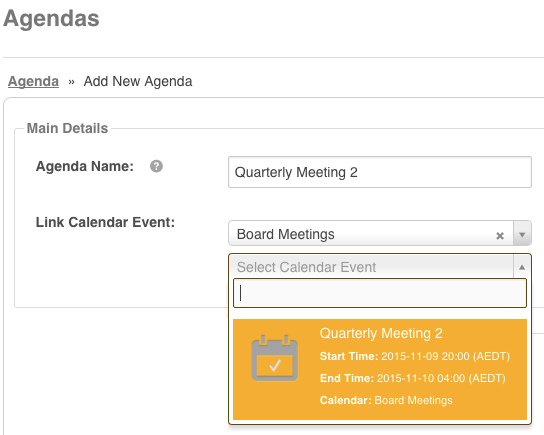 You can now add a Custom Agenda Item, or select an item from your Resources to add as an agenda item.
On the right-hand-side you can also add an Item Description, times/duration for each item, and also add Presenter information by clicking the edit icon next to each item.
At the bottom of the left side is Agenda Settings whereby you can select to use Automatic Numbering for your agenda items, select a custom icon for your agenda, and also add Permissions.
Once you have finished you will need to Save your agenda.
* Depending on the customisation of your platform, the Agenda menu might not always be in the parent menu but may be located under another parent menu item.
Next:
How to Add a Custom Agenda / Conversation Item
Related:
Automatic Numbering & Permissions
How to Link an Agenda to a Folder
How to Link an Agenda to a Calendar Event 
Board Members accessing the Agenda via the iPad or Android Apps