Click into the Agenda menu item to locate the agenda you wish to update, or find it within a Folder it was created in or linked to.
Once located, click on the Edit option to the right of the Agenda name.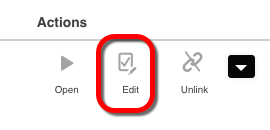 This will re-open the page where you initially created the agenda, and will allow you to go through and update anything you need, such as the Agenda Name, re-sorting the agenda order, adding or removing Resources, or changing the Permissions within the agenda.


Related:
How to Add a Custom Agenda / Conversation Item
Automatic Numbering & Permissions
How to Link an Agenda to a Calendar Event
How to Link an Agenda to a Folder