If you want your User's photos to appear on your platform's Navigation Menu Bar click into your Admin section and then on the Templates tab.
Follow the steps outlined here to update your platform's Menu to the Small Logo option, which will enable a smaller logo to sits on the same line as the main navigation menu items, leaving more page space for the rest of your platform.
Your Menu will then appear more streamlined, like the below example:

This will also enable your user's photos to show on the right-hand-side of the menu.
If your Users have not uploaded a photo, a default icon will appear in the right-hand Profile space:

From here, the User can also Log Out of the platform: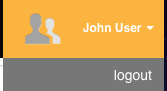 To add a Photo, the User needs to be logged in to their platform, and click on My Account. They will find the photo option towards the bottom of this page, where they need to select Custom to upload their photo. 
Alternatively, Admin Users can update other user's photos for them via Admin > Users.
Once Uploaded, their photo will appear instead of the default icon, as such:


My Approvals, My Account and My Collections, which do not require permissions check and are user specific, can now also be moved under that area.
To do so, click to Admin > Templates
Click on one of those modules, such as My Collections.
In the pop-up window, select your User Name as the Parent option and Save
Note you will need to move any sub-menu items to under your User Name before moving the parent menu. 

Related: