Cross-Content Pages allow you to import previously created pages into a new Custom Page.
Click here for help in creating a Cross-Content Page.
At the same time as you are creating these pages, you can implement another feature - the Collapsable Accordion which allows the end user viewing the page to close/open sections as they view or read down the page.
This is beneficial for pages with a lot of content, as it allows you to break the page up into clear and distinct sections.
To implement this feature, click the Widgets option under the side-bar.

Click and drag the Accordion widget over to the Page Content area down and to the left.

Then click on the Accordion and the edit options will appear. Click the tools icon to edit:

This will load the Accordion HTML and CSS options, where you can edit the Accordion title and Description, as well as updating the fonts etc via the CSS rules.
(Note: It is advised only those with CSS knowledge edit these settings as this may impact other Custom Pages on the platform).
You can then Save or Close this editor and then search, click, and drag other previously created Custom Pages under each Accordion.


The outcome will appear something like the below, where you can click on these Accordion names/descriptions and they will expand and collapse: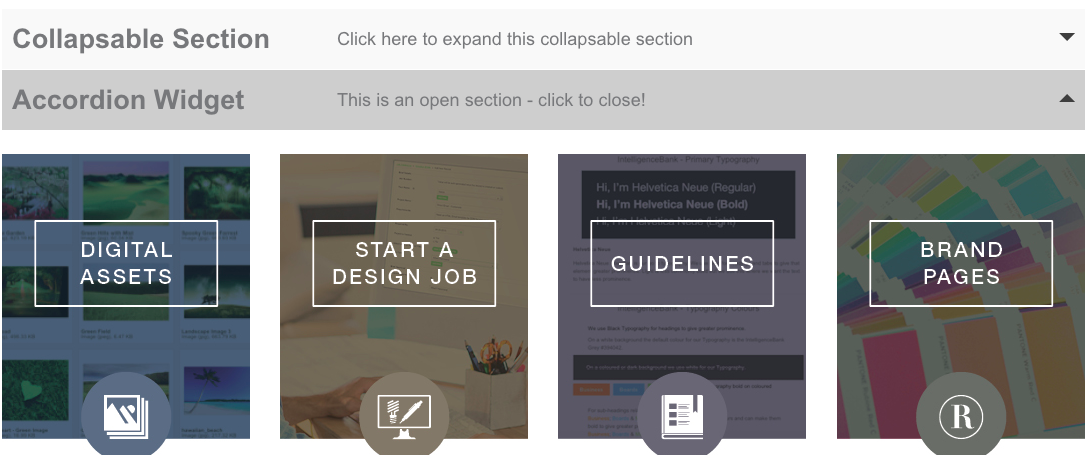 An example of all Accordions collapsed: 

Note that the default view of the page will be for the Accordion to be collapsed, as shown above. 
Related:
Other Custom Page Widgets: