Platforms with access to the Custom Pages module can now add an exciting new widget which allows you to insert a dynamic image gallery into your Cross-Content pages.
> To do so, create or edit a Cross-Content Page. 
> In the right-hand-side editor select Widgets from the top of the side-bar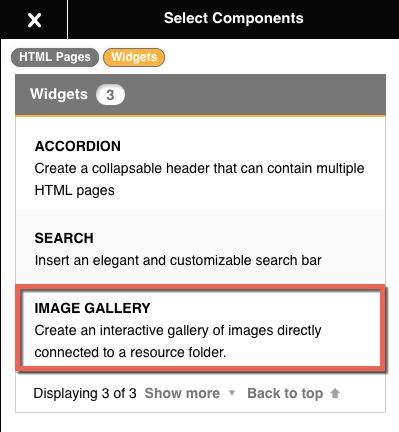 > Click and drag the Image Gallery option over to the Page Content space on the left.

> As noted in the Page Content space, the next step is to select a source folder to link to your Image Gallery. 
> Back on the right-hand side of your screen click Select from the Source Folder option. 

> Click through the 'folder tree' (the + and - options to open/close sub-folder levels) until you find the right folder, and click onto it. Then click the Select Folder action below. 
> Note that the Gallery tool will feature the first 40 resources from the selected folder. This applies to however that folder Resource sort order has been set up: Custom, Alphabetical, Recent, etc. 
> Content will update automatically if the folder content gets changed.
>You then have a variety of other options to help customize the widget for your platform, including:
  * Background color, icon colors, title color, background color, title position, gallery description
  * Options for images to appear 'Boxed' or 'Natural' (no box around image) and Landscape or Portrait view
  * Autoplay Image Gallery when loaded, number of images per line & interval time between images as it plays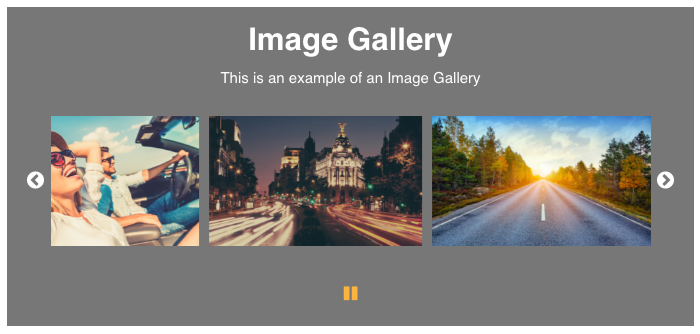 > To see how each selection effects your Gallery, click Save on the right hand side after each change. The preview on the left will update to reflect the change.
> Once happy with the look of your Gallery, remember to click Save on the page on the left hand side. 
Related:
Other Custom Page Widgets: