To help Directors save time if they need to download an entire Board Pack, they can now Merge & Download the Agenda and its content into one PDF.
Once the Agenda is finalised just head to the Actions list for that specific Agenda and select Merge & Download from the dropdown options.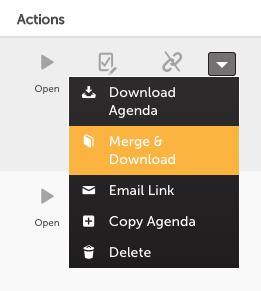 Once selected, another popup will appear on your screen. At the top of the popup (pictured below), you can enter a custom Export File Name that will apply to your downloaded PDF. By default this will be the Agenda name.
The list below the name contains all documents found within the Agenda. These appear in the order set within the Agenda. The 1st option will always be the Agenda itself, which can be removed if you only wish to review the supporting documents.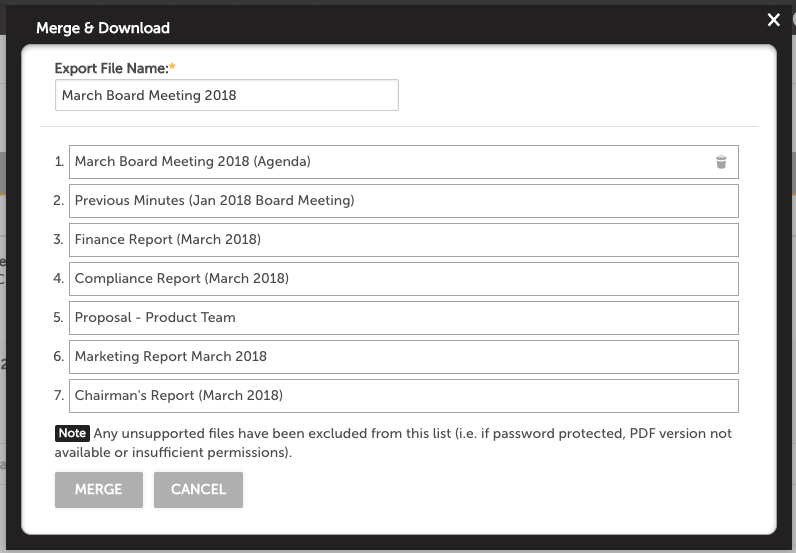 If you wish to reorder the documents, you can do so by clicking on the files and dragging them to their required position.
Click Merge to create your PDF. Please note that if there are many documents or documents with large file sizes, it may take a minute or two to generate your download.
Pagination
Global pagination will be applied to the entire document at the bottom of each page. Note however that Pagination can only be applied if the Documents within the Agenda are no larger than A4 size.
Permissions
If the user does not have Access permission on a document, it will not be included in the Download.
The exception to this is when the Map Display of Items to User Permissions settings is utilised. If enabled, the User will only see items they have Agenda Preview permission on and a minimum of Access permission for the document. If this setting is disabled, they require Access on the document.
If you have any questions about this feature, please don't hesitate to contact your Customer Success Manager. You can read more about other Agenda features here.