If you wish to review or print multiple images within a single PDF document, you can use the Merge & Download action to enable this. 
Select a group of images and use the Bulk Actions bar to select Merge & Download amongst the options. A popup (pictured below), will then appear with additional options. 
On the Merge & Download popup you can add in a custom file name that will apply to your Downloaded PDF. You can also reorder the images by clicking and dragging them into the correct spot. When you've finished updating your order, click Merge to begin the download.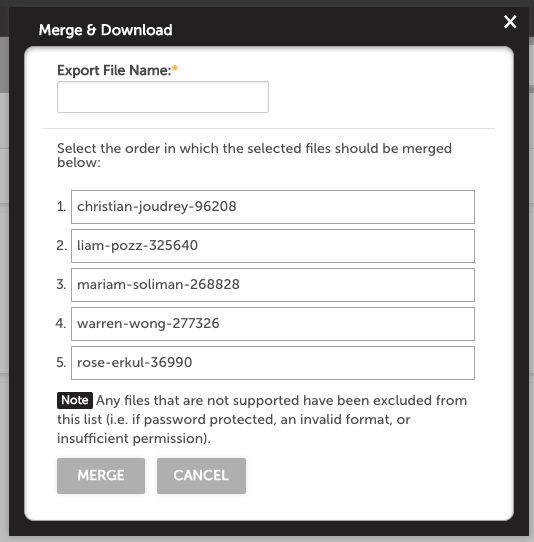 Please note that if you wish to merge a large number of images, or they have large files sizes, the merge & download process may take a few minutes. You must also select a minimum of 2 files to allow the Merge function to be successful. 
PDF Download format
Each image will appear on its own page within the download, according to the order set within the popup. Smaller images will not be stretched, but appear according to their width/height. Larger images will be scaled accordingly so they can render on the page. 
To see how you can Merge & Download documents click here. You can browse other articles about the Resources module here.