The newest updates available on your platform are below. Click on the title of each Feature to read more.
-----------------------------------------------------------------------------
A new option available within your Databases module allows you to display items from your Resources module within records. On the record, users will be able to browse through their Resources module and select Resources that will then be displayed in that record. You can use this to display creative assets needed for a creative brief or to include a specific report relating to a compliance action item.

Resources Lookup field in Databases
Currently the Lookup field type allows you to select users or records from other databases within a record. With this new functionality, users can also choose the Resources module as a selection option.

Once enabled, the user will be able to browse through all Resources (according to existing Resource permissions) whilst on the record and select the files that will be viewed within that record. This ensures that the files within the record are subject to the same permissions as in the Resources module and that the file's version will always remain updated with any changes.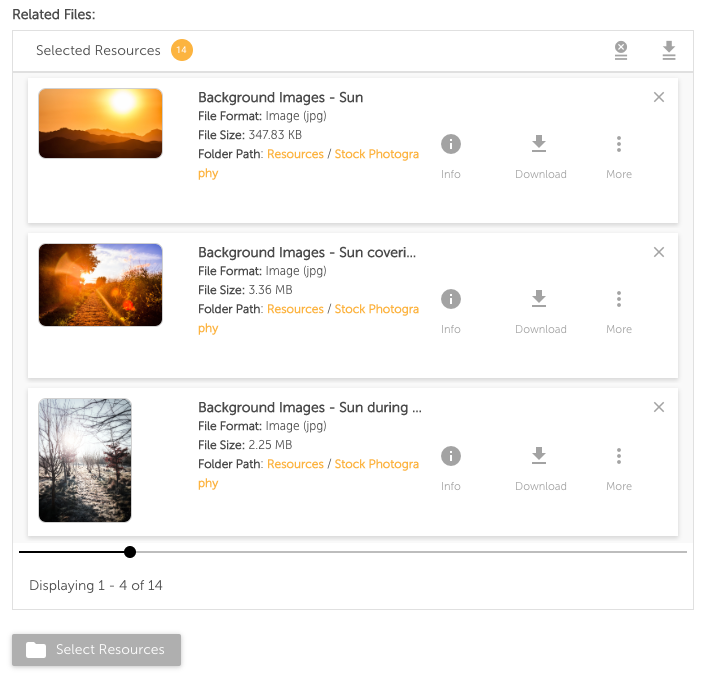 As part of this functionality, a number of smaller features have been added:
Enable Bypass Resource permissions so any user (with Record permission) can view the Info Preview page or Download the Resource
Auto-Relate the Resources selected within the field with the Record they're selected in
Select Multiple Resources at once from multiple Folders
Bulk Download all the selected Resources using the upgraded Bulk Download view
Select this field as the Record Thumbnail, and if Multiple is enabled the user can select which of the selected Resources will be the thumbnail.
-----------------------------------------------------------------------------
This release is the first in a series of feature enhancements relating to Video functionality. With this launch users can transform videos on Download. They can download in various formats, different resolutions, select specific snippets and apply custom watermarks to videos.
The new Single Video download popup lets a user quickly download the original file or one of the various bitrate streaming options enabled. They users can also choose to apply transformations to those formats or to the original file.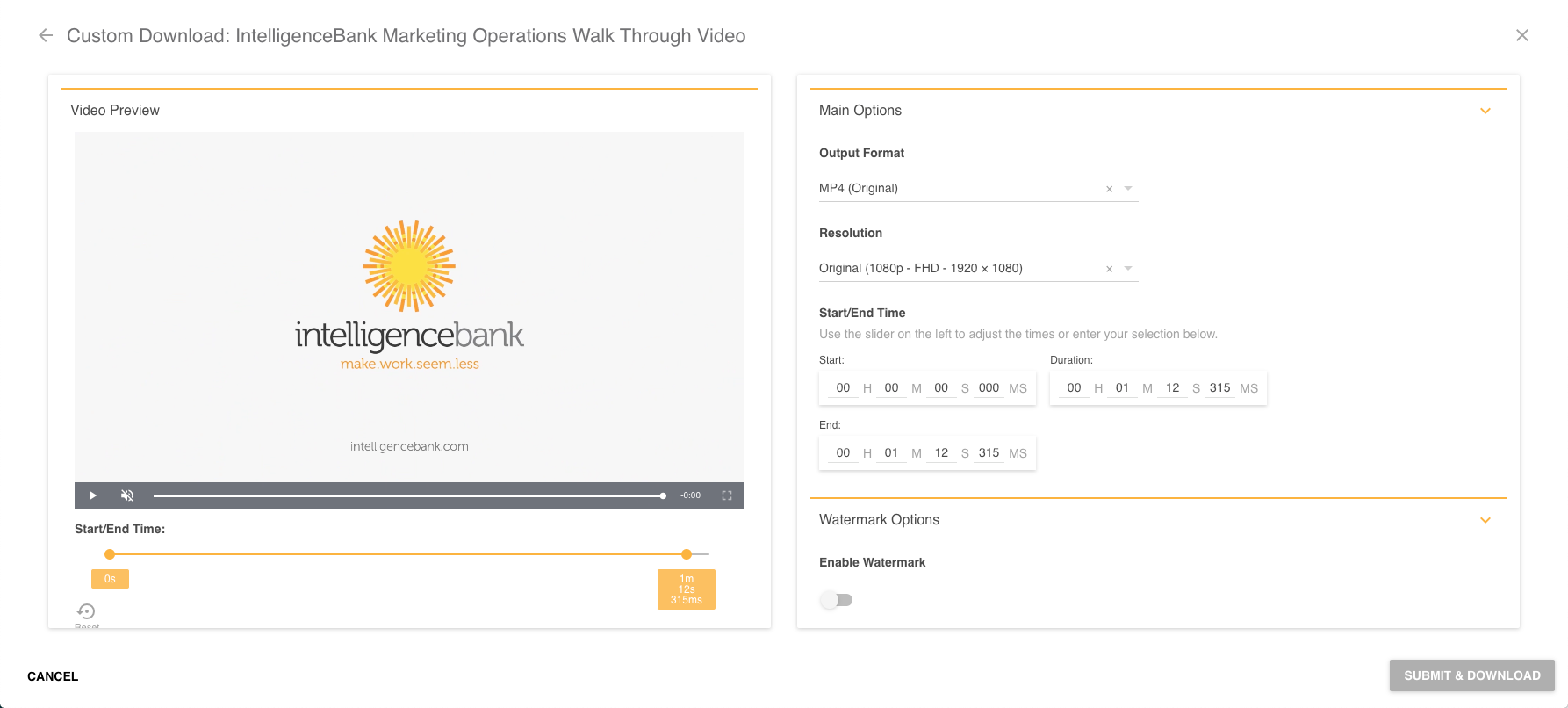 The Custom Download overlay (pictured above) is a new interface where users can customize their download. Users can select the output format, the video resolution, select a specific start / end time and apply a custom or default watermark, along with choosing the size and opacity of the watermark option selected.
After downloading, the Video file will be available in the Jobs list, where it can be accessed until the Job expires in 7 days.


---
To find out more about this feature, either click on the title above or contact your Customer Success Manager.
Please note that some of the terminology referenced, including Records, Databases and Resources may appear as another name in your platform as these are customisable terms. You can see examples of what terminology may appear on your site here.