If you need to restrict annotations so they can only be added to Documents within specific Folders, you can do so via the Folder settings page. This can be done for both Image and Document annotations. It can also be applied by default for new folders via the Admin settings area or updated in Bulk using the Bulk Edit Folders action.
Folder Settings
If Annotations (for Images and Documents respectively) are enabled on your platform, you will be able to go to your Folder Settings and view the options below in your Advanced Options section. If they do not appear, please contact your Administrator or Customer Success Manager.

If the setting for Annotations on Documents is enabled, users will be able to add and view annotations for any Document, ie PDF, powerpoint, etc. You can see an example below:

If the setting for Annotations on Documents is disabled, users will not be able to add or view annotations for any Document. Consequently none of the annotation options will appear in the Reader, as you can see below:

The same behaviour also applies for Image Annotations.
Admin Settings
One of the many Admin Settings options related to Annotations, restricts what is automatically enabled when a new Folder is created. When enabled, the setting highlighted below will automatically turn on the Document Annotations setting for any new folder created. This can still be turned off via the Folder Settings if required.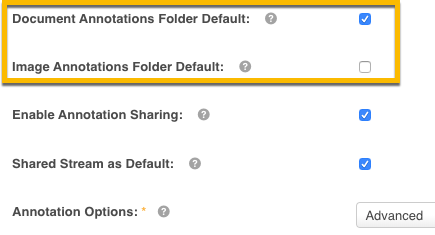 Updating Folder Settings in Bulk
If you need to update multiple Folder settings at once, you can utilise the Bulk Apply Changes options via the Bulk Edit Folders side panel. Once you have selected the Folders you wish to edit, click Confirm and then select the relevant setting option.
This includes the option to enable or disable Document or Image Annotations; as you can see highlighted below: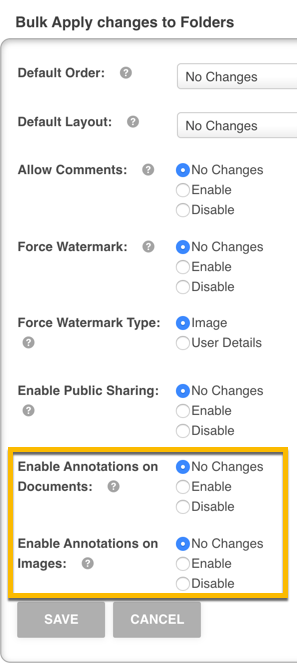 ---
You can read more about Document Annotations here