Markup Comments are Comments & Annotations attached to a Resource Feedback or Publish Approval Workflow Request. These are accessible in a new area in Approvals that enhances your Proofing capabilities, allowing the users involved in an approval request to provide informal, yet trackable feedback on a file. Users can add Revisions or Versions of the file during a request, offering an alternative, yet more compliant way of progressing your requests from submission through to approval.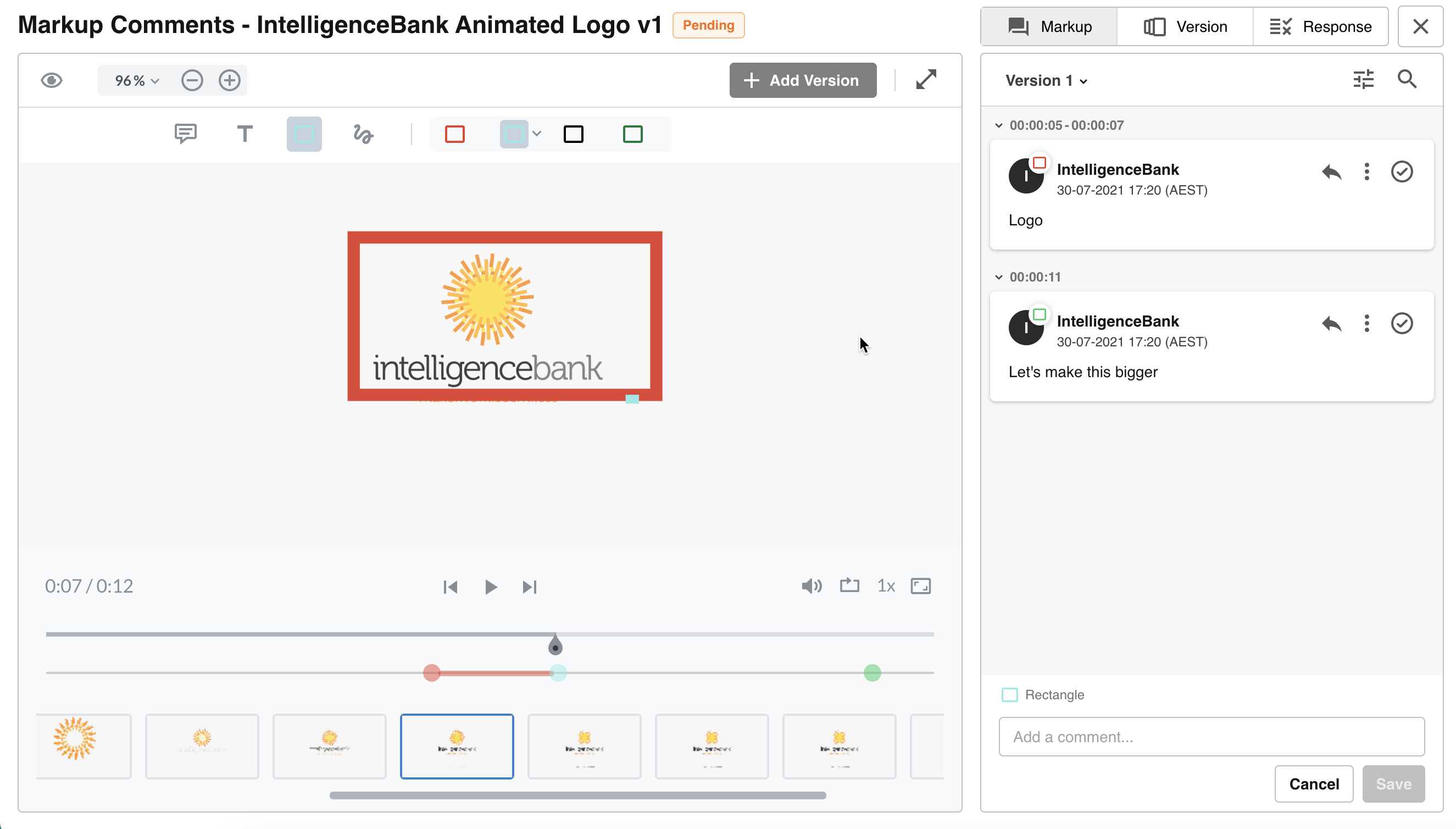 What does Markup Comments allow you to do?
During the creation or review phases of a file, there are often instances where you need to provide feedback and request changes, ensuring that the content being produced is accurate and up to date. This can often occur during face to face sessions or via email, meaning that the changes will just appear as new requests without the context describing why it changed.
Within the Markup Comments tab, users involved in the approval request can add Markup Annotations and Comments and have a discussion on the changes that need to be made. This happens within the Pending Approval Request. Users can also add new Versions / Revisions, allowing them to go and make the requested changes offline, before uploading the newest version for everyone to Review.
These feedback loops and updates to the file all occur within the same approval request and do not require the user to submit their approval until all of their changes have been resolved. The comments and annotations added on all Versions / Revisions added during the request are available even after the file is approved. This means that the full working history of the file is available for review at any time by those involved (or certain Admins).
Where is Markup Comments not available?
Markup Comments are only available for Resources Publish and Feedback Approval Requests, either via email or the Review Request page for those Requests. They are not accessible in any other module or in any other type of workflow request.
It's important to note that the existing Resource Annotation options, e.g. Image Annotations and Document Annotations via the Reader are still available and are not affected by this update. Markup Comments is a standalone feature within an approval request and it's functionality is specific to the request only.
What File Formats are supported for Markup Comments?
Markup Comments are available for the following file formats:
- Any Image, Document and Video formats that are supported for Preview Generation.
- The following Audio formats: mp3, wav, flac, ogg.
- A URL that can be displayed in an iFrame & must be publicly accessible and secure.
General Comments can still be added for any other file format, however without annotations or preview display support.
Learn More about Markup Comments
If you wish to read more about the specific features that relate to Markup Comments, click on the headings below to be taken to that article.
Markup Comments is available on Resources Pending Approval and Feedback Requests and is only accessible via the Review Request page for those requests or directly via any Email Alerts you might receive.
Users can add Markup Comments if they are a Participant involved in the Approval Request, or if they are a Workflow or Main Admin. They can be added on Images, Documents, Video, Audio or URL files. For all other file formats, ie zip files, you can add General Comments, but not Markup Comments & Annotations.
This article covers the above points in more detail, as well as how users can access the Markup Comments tab and any additional restrictions.
Markup Comments & Annotations are added in the Markup Comments tab only. On this page, users will see the file on one side, where they can add their Markups and the Comments panel on the right, where they will add the corresponding comment to each annotation. The Comments panel allows users to see the full conversation and feedback history about each Version / Revision of a file. You can also access the Versions / Revisions dropdown here and new Versions / Revisions within the same Pending Approval Request.
There are multiple annotation types to choose from, depending on the file type. Users can also tag specific users, reply to comments and apply other actions. This article includes all the actions and options related to Markup Comments & Annotations.
Video files have specific Markup Comments & Annotations option, available because time-based options are often required. This allows users to apply an annotation about a time range, ie a start and end point.
This article contains all the information regarding video files and the annotation options specific to those file types.
Audio files also have specific Markup Comments & Annotations options that allow users to apply an annotation about a time range or single time point.
Whilst Versions already exists on the platform in Resources, the addition of Markup Comments allows greater flexibility within the Workflow Request, allowing users with the right permission to upload new Versions or Revisions whilst the request is Pending. This means that the Requester (or the user doing the work) will not have to create a new request each time they've made changes. Instead, changes can be addressed and resolved within the initial request.
Versions are applicable in Resources Feedback Requests, whilst Revisions are applicable in Resources Publish Requests.
You can read more about Versions and Revisions here.
Instant Alerts are the first in our updated emails and inform Participants in the Feedback or Publish Requests that changes have been made in the Markup Comments page for a individual request. These are customisable for each user, allowing them to choose what actions they receive instant alerts on. Actions can include a New Comment or Reply being added, the Status of a Comment being updated to Resolved (or Unresolved) or a Comment being Edited / Deleted. An Alert can also be sent when a new Revision is added.
Currently, @mention alerts are automatically sent out and this cannot be switched off. If you want to switch the alert off and remove the @mentions functionality, please contact your Customer Success Mananger.
You can read more about Instant Alerts here.
---------
To read more about Approvals click here.
Please note that the 'Approvals', 'Workflows' and 'Resource' terminology referenced above may appear differently in your platform as these are customizable terms. You can view related terminology here.
If you have any further questions about Markup Comments, please contact your Customer Success Manager.