Markup Comments are Comments & Annotations attached to a Workflow Request. This is accessible only in a new area in Approvals that enhances your Proofing capabilities, allowing the users involved in a request to provide informal, yet trackable feedback via Markup Comments & Annotations on the file. Users can add new Revisions or Versions of the file during a request, offering an alternative, yet more compliant way of progressing your requests. 
This article provides guidance as to how users can access Markup Comments, which file types are supported and any other restrictions. You can read an overview or access more specific Markup Comments articles here. 
Click on the items below to jump to that section. 
Accessing Markup Comments
The Markup Comments page is accessible via the Review Request page (as indicated below) or directly via links in the Instant Alert emails that users involved in the Request receive. It will be available to those involved in the Request: Reviewer, Requestor, Workflow Admin(s) & Main Admin(s), providing those users have at least Preview permission on the file.
Users who have permission to Access the Workflow Request will also be able to access the Markups comments page, but they will not be able to participate. 
If accessing via the Request List page, you can navigate to the Markup Comments page via the following steps which are also demonstrated below:
Navigate to the desired file's request
Click the Review Request / Request Details action or the Markup Comments action . 
At the top right of the page, click the Markup tab.
The Markup Comments area will now load, allowing you to view / interact add with the Markup Comments features. 


Markup Comments Restrictions
Additionally there are some other restrictions & scenarios to note for users accessing the Markup Comments page:
When the Request is

Pending

-

Participants that can access the

Review Request

overlay but don't have permission to the Resource

,

can

see the

Markup Comments button

however all editable actions on the

Markup Comments

page are disabled.

The Markup Comments overlay will be available if the request is in any status (Excluding Cancelled if the Resource is deleted). This allows users to access all Markup Comments within the Request during all phases of an approval, and also once it's completed. Users will only be allowed to interact and update the Markup Comments though if the request is in Pending & the user is the Current Stage Reviewer. 
Markup Comments cannot be accessed by users on the IE11 browser. 
Markup Comments functionality is unrelated to Resources Annotations options or any other Annotation functionality available in the platform. 

The Live HTML Markup ability is currently only supported for Resource Publish Approvals.
File Formats Supported for Markup Comments
Whilst the majority of File Formats are supported for the full Markup Comments functionality, some  file types are currently restricted. More formats will be supported for Annotations over the coming months. 
Supported file types for Markup Comments (including both Comments and Annotations) include:
Images: All standard image formats that are supported for Preview on the platform will be supported. You can see the full list here.
Documents: Document files that can be converted to PDF are supported, ie if you can view the Reader action for the file Markup Comments will be available. You can see the full list here. 
Videos: MP4, OGG & WEBM files are automatically supported. Other video files will be converted to MP4 on upload. Note that it may take a few minutes until Annotation options will be available if conversions are required. 
Audio Files: mp3, wav, flac, or ogg files are supported 
A URL: that can be displayed in an iFrame & must be publicly accessible and secure.
For all other file formats, users will be allowed to Add Standalone Comments, but will not be able to add Annotations. In this scenario, the user will see (for now) an empty view on the left, whilst they can still view comments and browse Versions / Revisions on the right in the Markup Comments Panel. 
Note that for Documents created via Office Online, Offline Comments will be visible in the Preview area but are not currently supported for Viewing in the Comments Panel. These comments will however be included if you choose to Print your Comments / Annotations.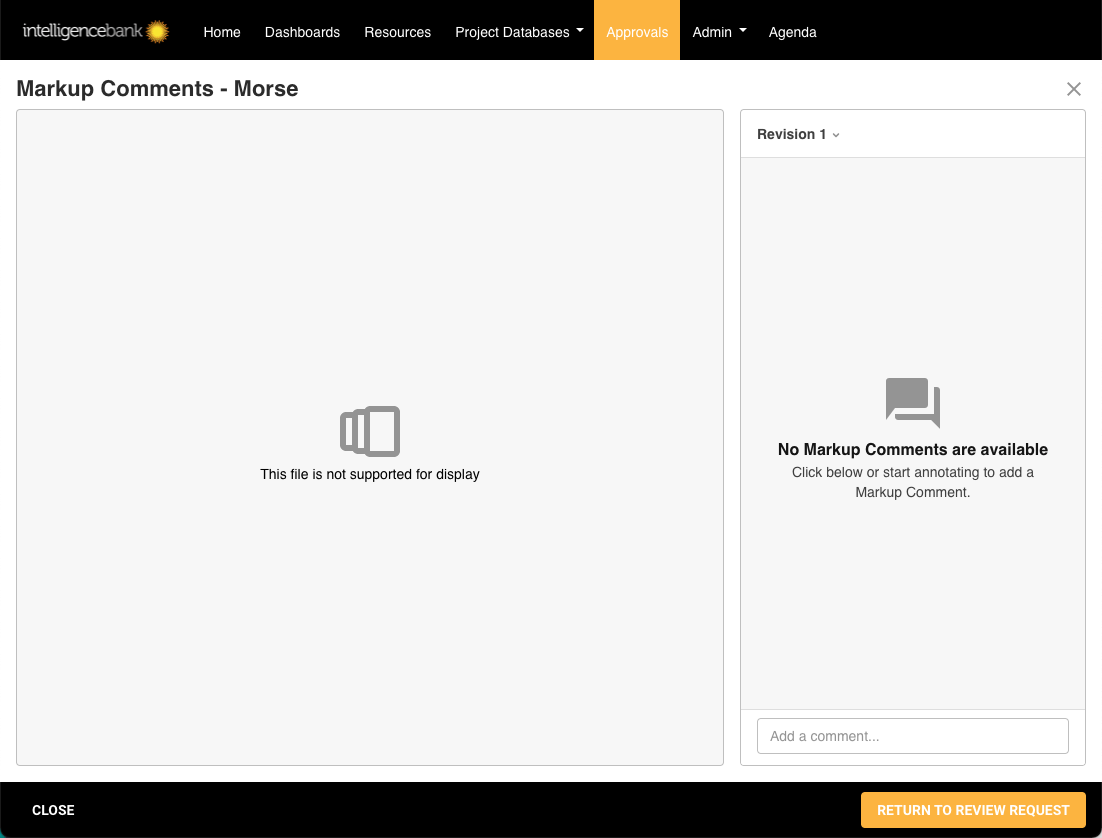 ---------
Other Markup Comment articles available include: Markup Comments Overview, Markup Comments & Annotations, Video Markup Comments & Annotations, Add New Versions / Revisions in Markup Comments, Instant Alerts (Markup Comments). 
To read more about Approvals click here. 
Please note that the 'Approvals', 'Admin' and 'My Account' terminology referenced above may appear differently in your platform as these are customisable terms. You can view related terminology here.