If you wish to Download an individual file, there will be multiple options available depending on the file type.
The user can view and select the Download icon if they have permission to download within that Folder. The file will then either download immediately, open a popup with minor transformation options or open an overlay allowing for transformations and more extensive options to be applied.
This article includes an overview for how to download any file, as well as providing further guidance on the options available for each file type.
Click on the items below to jump to a specific section.
How to Download your file
To Download your file, go to the Download icon related to the relevant file. If you are in a Folder, this can be accessed by the actions on the right of your screen if you're in the List view, as highlighted below. Note that if your screen is smaller, this icon might only be accessible once you click the More icon.

If you're in the Mosaic view, hover over your file and click the download icon (highlighted below) that will appear at the top of the file as you hover.

In other areas of the platform, you will be able to access the Download action via the More icon.
Once you've clicked the Download action, a variety of actions may occur. These are all dependent on the type of file you wish to download. You can read more about these options below.
Downloading an Image
If you are downloading an image, clicking download will generally open the Download Image overlay. This will display your image on the left of the page and multiple tabs of transformation options on the right. You can download the Original image by clicking the Download button, apply quick transformations in the Single Download tab, or add other versions of the Original, ie a Smaller size, Presets or formats in the Presets Download tab.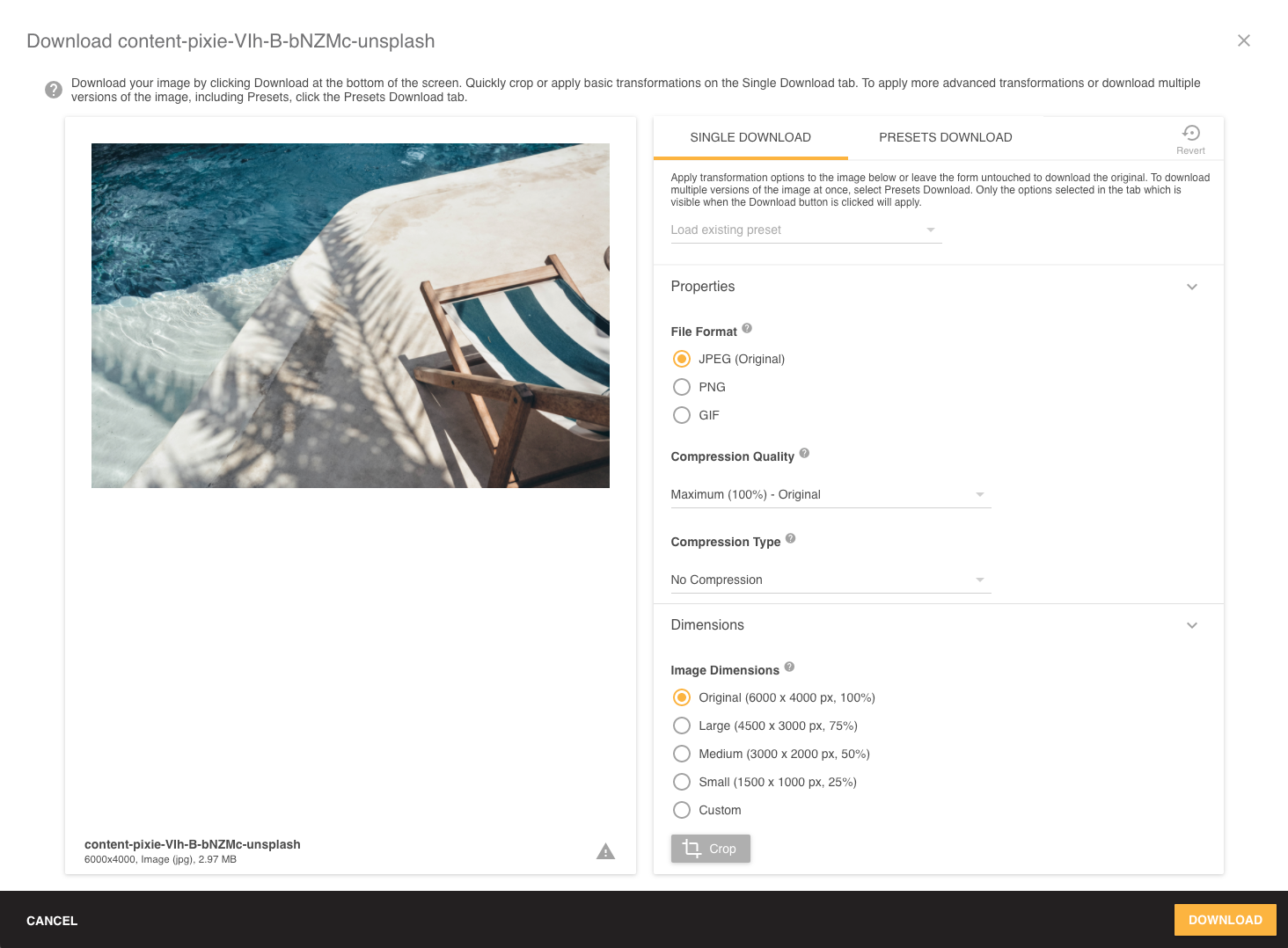 In rare instances, for instance if the image is too large or in a format that cannot currently be converted, ie indd, the image file will not be supported for transformations. In these few instances, the original image file will automatically download.
Click here to read more about Image Download.
Downloading a Document
If you're downloading a Document, multiple options will be available based on the type of file.
PDF Files will typically be downloaded automatically. However, if you have the Document Download Options setting in Admin enabled, clicking Download on a PDF file will open a Transformation Overlay allowing you to convert the file to an image so you can apply transformations to it.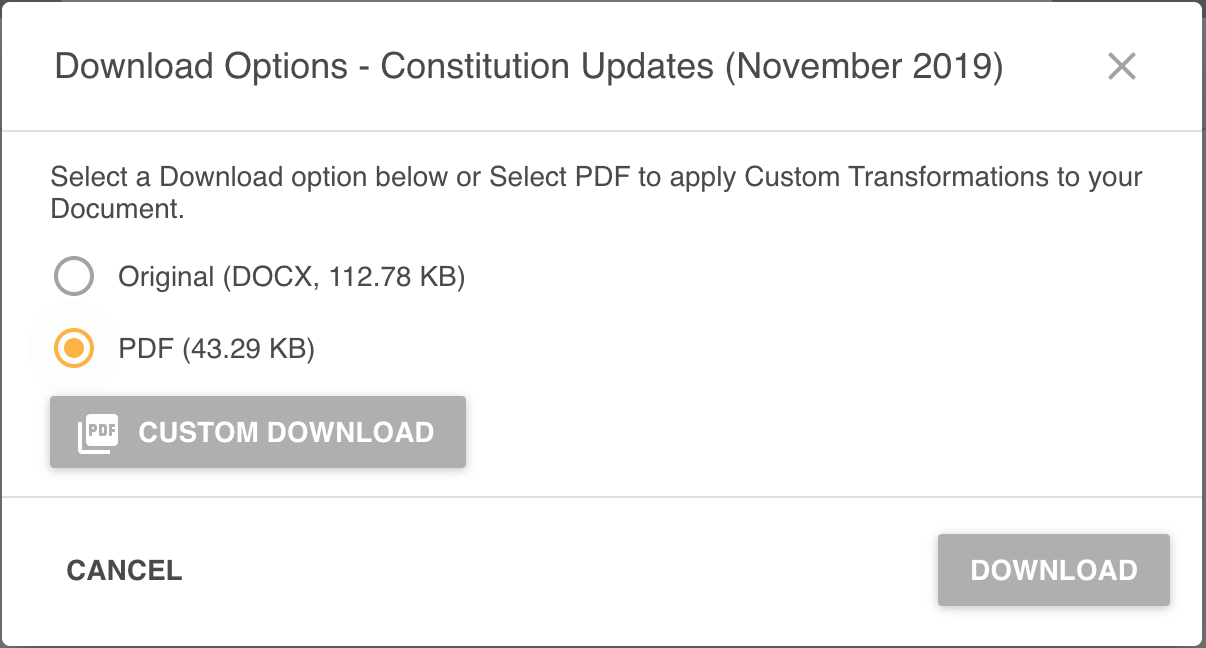 This overlay is also be available for Documents that are supported for PDF conversion. For example if you are downloading a Word Document, you will be able to choose between downloading the Original, a PDF version or Custom Download - applying the transformations like converting a specific Page Range or changing the Image Dimensions.
You can read more about Downloading Documents here.


Downloading a Video
When downloading a video file, your options will be dependant on the streaming options selected within the Admin section. In most instances though, clicking download on a Video file will open up the Video Download popup (pictured below).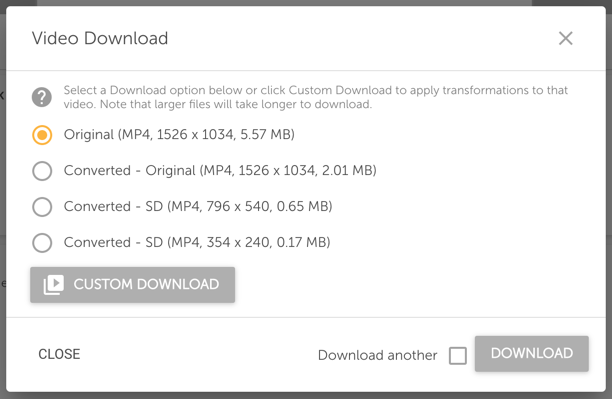 Here you can select either the Original video (by default), or other converted versions of the video. You can also select Custom Download, allowing you to apply transformations to the Video file.
Transformations to Videos include:
Output format
Resolution
Start / End Time
Watermarking: including the usage of either System or Custom Watermarks and the options to change the size and opacity.
You can read more about Video Downloads here.


Downloading Other File Types
When downloading file types other than those mentioned above, all files will automatically download. File types that will use this behavior include (for example):
Downloading with Approval Requests
If you need to submit an Approval in order to Download a resource, the Request Approval page (pictured below) will appear on your screen once you click Download.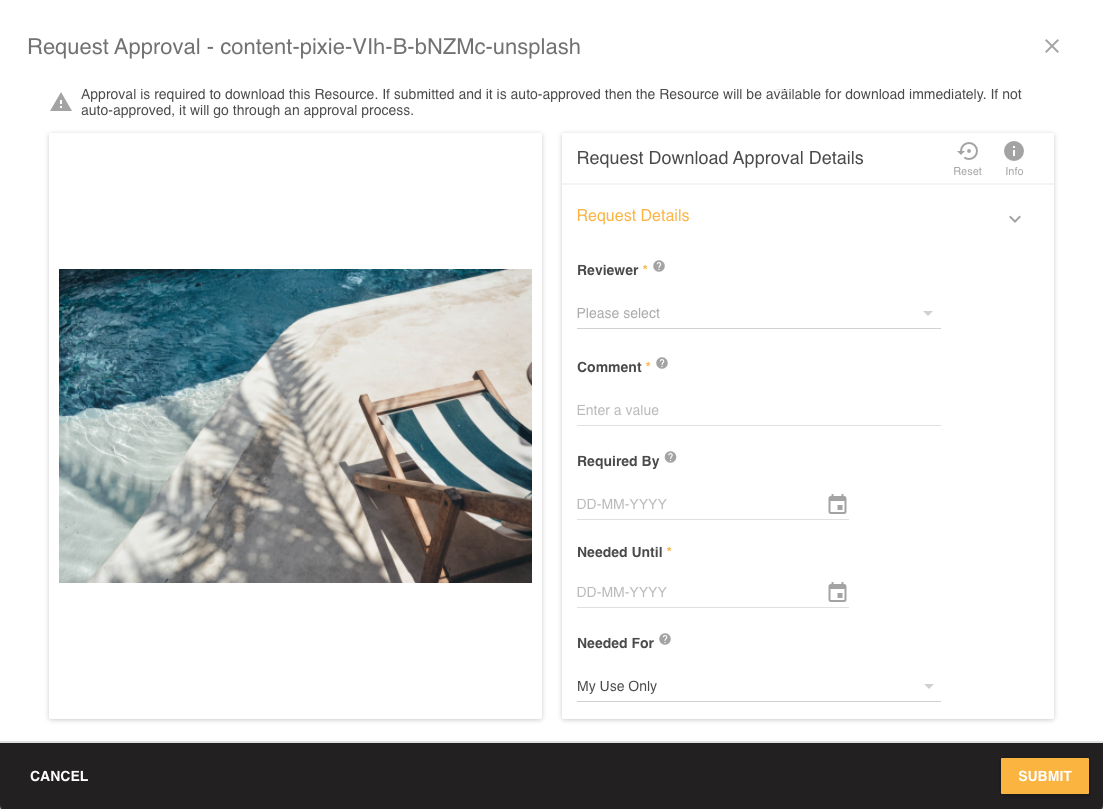 If your request is Auto-Approved, the overlay will be replaced by the page or popup referenced above based on the file type, or the file will immediately download. If not Auto-Approved, you will need to wait until your request is approved, after which you will be able to proceed as mentioned above.
---
Please note that the 'Resources' terminology referenced above may appear differently in your platform as these are customisable terms. You can view alternative options here.