To set up Custom Reminder Emails on any Approval requests in Pending status, you need to first either create a new Workflow or edit an existing one in your Admin > Workflow area.

Here you will see an option called Reminders:

Click on Add to create up to five reminders against this workflow, which will be sent to reviewers when requests are in Pending status.
You can then select from two options: Before or After
Before will allow you to set an alert X number of days Before the Required By Date that has been selected by the requester during their end of the approval process (where applicable).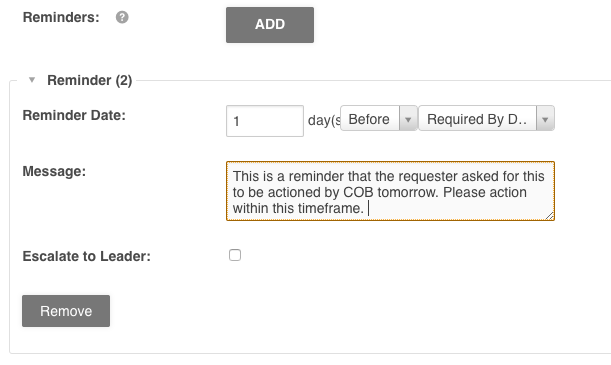 After will allow you to select from the Required By Date (where applicable) and also the Submission Date of the approval request.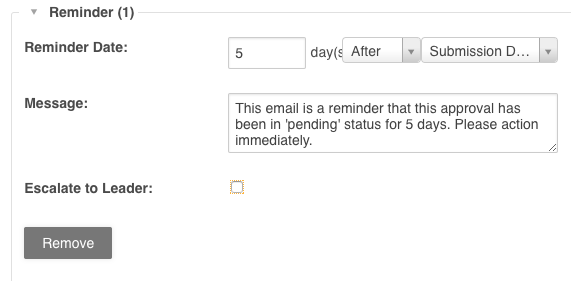 You can add in custom Message text to either reminder option, up to 1000 characters in length.
A checkbox option to Escalate to Leader will show but will only be applicable if Direct Leader or Leader is selected as the Which Reviewers type for that workflow. Note that this option will send the reminder email/s to the approver's Leader of the Approver themselves.
Once the approval request has been updated and is no longer in Pending status any further reminder emails will not be sent.
Note that these Reminder Emails can only be configured at the Admin > Workflows level and are not customisable on a location-by-location basis.


* Please note that some of the terms used above such as Workflows & Approvals are customisable and may appear differently in your platform.
Related: