Download Approvals can be enabled on all or select folders and only apply to users with Preview permissions on folders. Users with Access, Publish or Admin can always download files.
This article will take you through the below:
* Why use Download Approvals?
* How long will the Preview user be able to Download the Item?
* Cancel a Request to stop Download
* Download Approval Custom Form
* Restrict Location for Approved Download
* Auto-Complete Download Request


Why use Download Approvals?
Preview permission allows users to preview online files however not to download them. When Download Approvals are enabled however, users with preview permission can request to be granted a long-term or a limited-time approval window to download files. This saves you needing to update their permissions temporarily to download and offers an auditable trail of request and approval information to refer back to when required.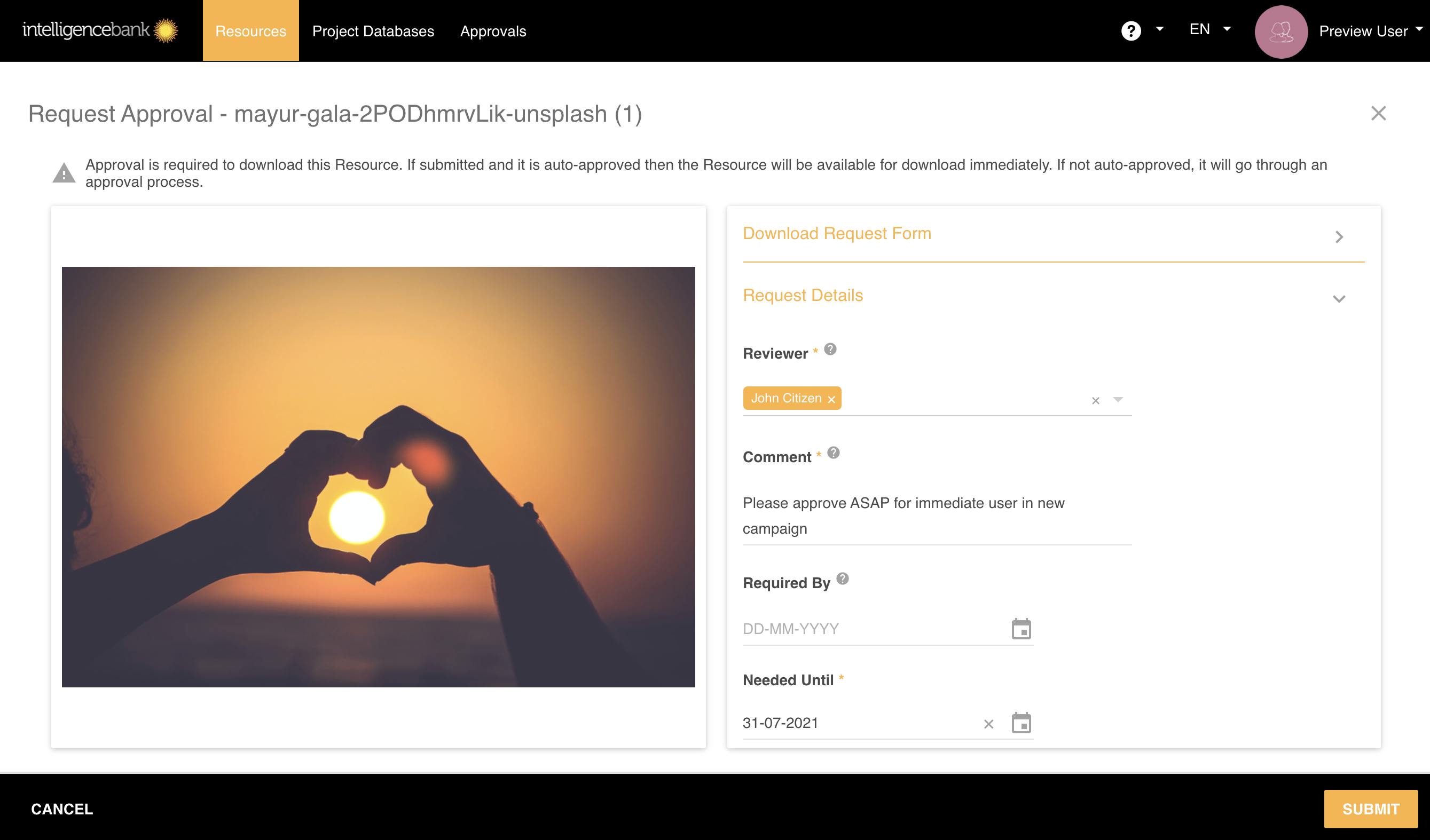 How long will the Preview user be able to Download the item?
Approval is valid to download for a set period of time, which is determined by the Approved Until field in the request form by the Reviewer.
Depending on the set up of your workflow, a Requester may have to nominate a Needed Until date.
This can be overridden by the Reviewers at time of their response. Note where multiple Reviewers exist, each can override the last for the nominated Approved until date and time until the request is Complete.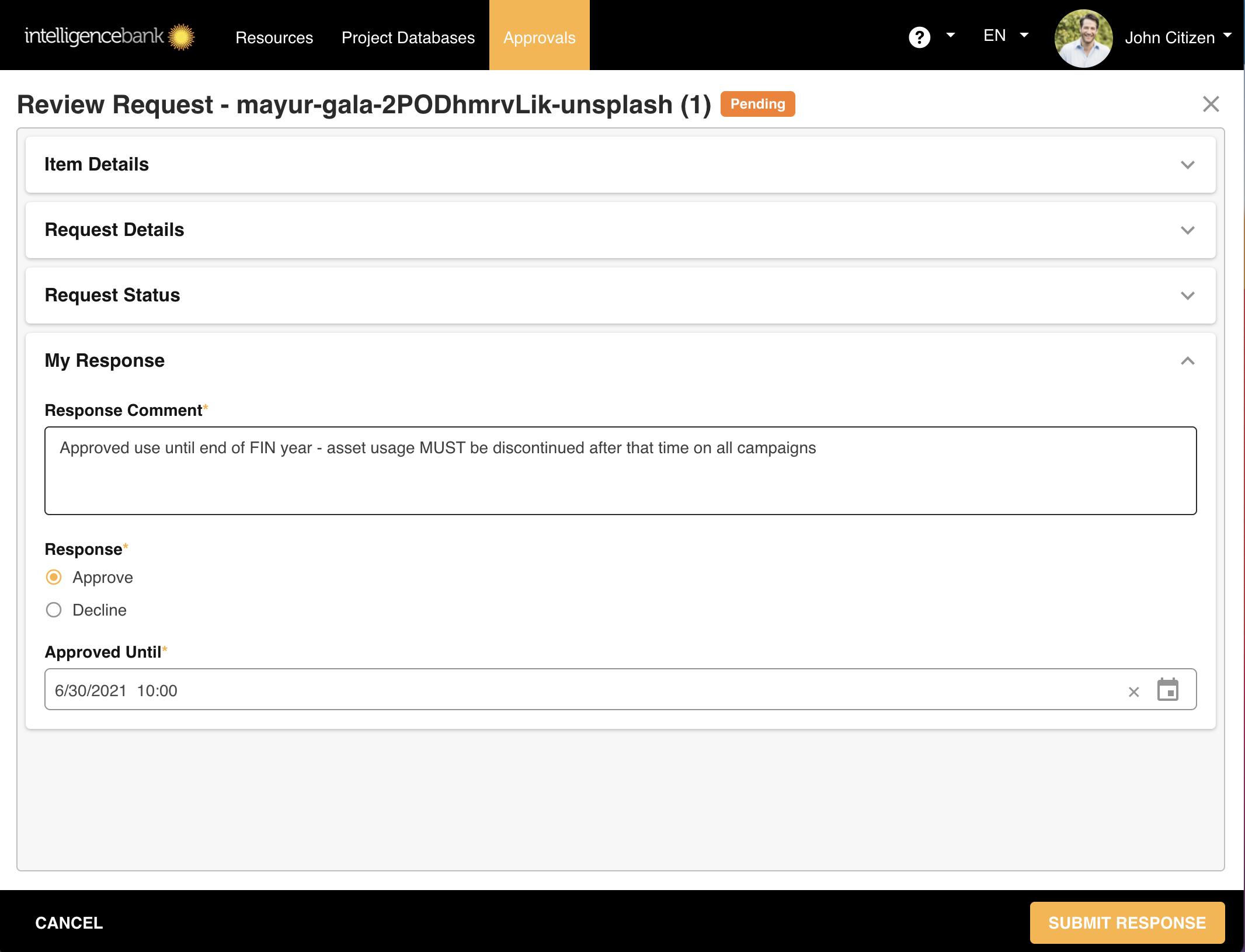 The date and time it has been approved until will be communicated to the Requester via the Workflow Email Notifications (if enabled) and in the Workflow Request List:

Cancel a Request to stop Download
Note that you can Cancel the Approval in the Workflow Request List should you need, which would mean the user who requested approval would have to re-request again for further access.
Simply click 'Cancel' against the Request:


Download Approval Custom Form
When requesting a download approval, the user can be required to provide custom information such as the reason for the request, and when appropriate, information about the intended use of the file. Admins can customize the information requested when setting up download approval workflow templates under Admin > Workflows.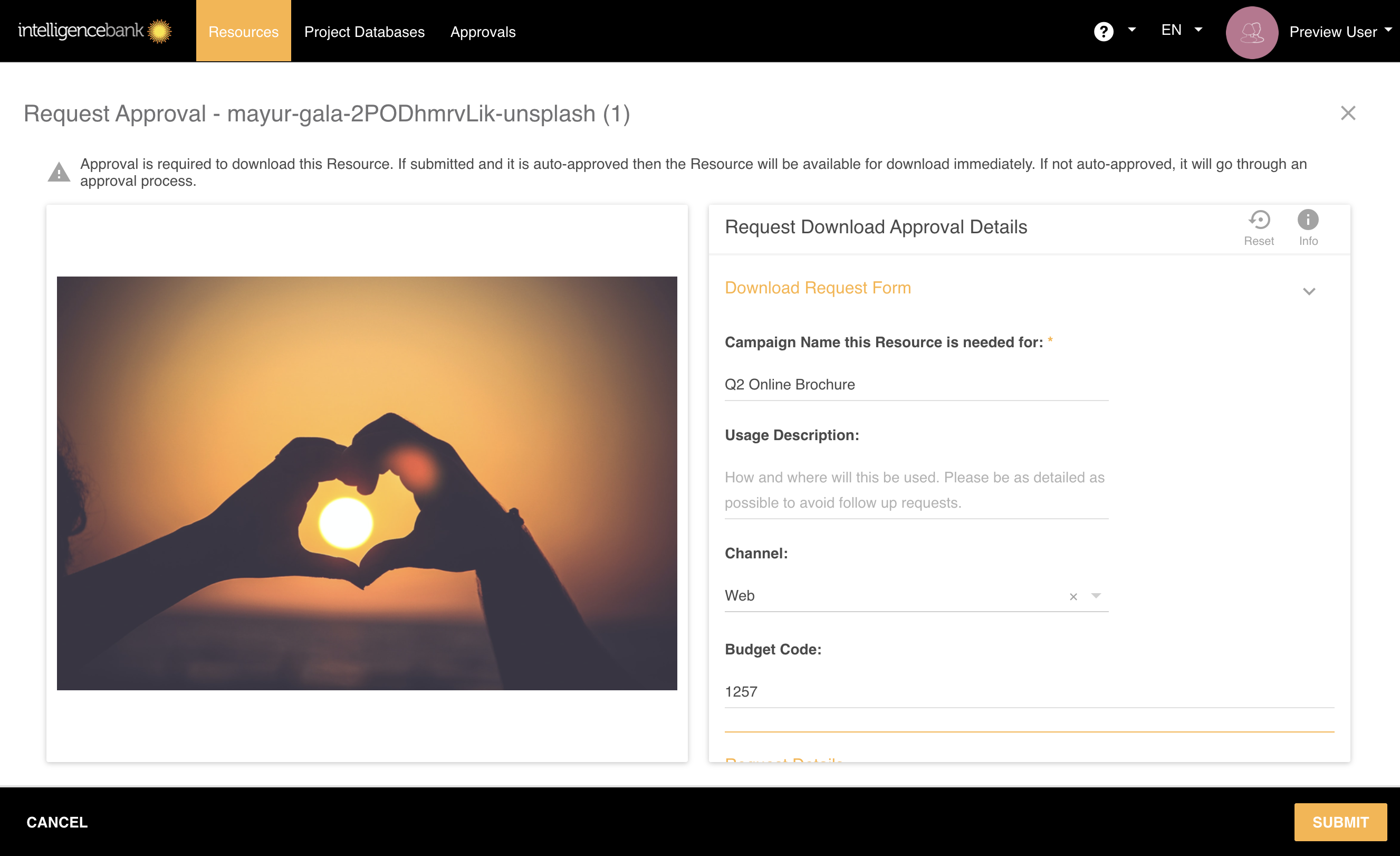 Restrict location for Approved Download
There is a setting in Admin > Settings called Restricted Download Approval that, when enabled, will only allow Preview users with Download Approval to download from their Workflow Request List.
If they want to re-download the item from other locations (Resources > Folder, or My Collections for example) this will trigger a new Download Request.

Auto-Complete Download Request
Condition Actions can be enabled on your Download Request Workflows Settings pages to allow, when the Condition is met, for the Request to be Auto-Completed.
What this means is that you can still capture the Request and Custom Form information you need from the Requester around why they need to download the file, but remove the need for anyone to manually approve these requests when the condition/s are met.
Additionally, the Requester will be able to download the item right away after the request is submitted, speeding up their access to the file that they need.
Conditions can be linked various Resource information such as the Resource Name, specific Filter values, and more.

* Please note that some of the terms used above such as Workflows & Approvals are customisable and may appear differently in your platform.