A Search widget can be added into your Cross-Content custom pages. 
Click here to read more on Cross-Content Pages. 
To add this into a Cross-Custom Page select to Add or Edit a page. 
If adding a new page, select Cross-Content Page and then Create.


From here click Widgets from the Select Components upper-right-hand side-bar menu.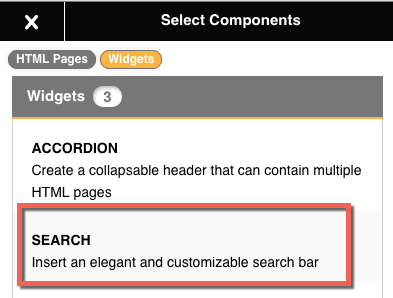 Click and drag the Search widget from the right-hand pane into the Page Content space on the left of the page.
This will then add in the Search widget into your Cross-Content page.

You can now select to add other pages above or below the Search widget to finish building your cross-content page.
---
ADVANCED TIPS:
Note that the default setting for the Search widget is to Search all modules within your platform: Resources, Custom Pages, Databases, Surveys and News (where applicable to your platform), however you can customize this to select modules only. 
You will also see that your Search widget is automatically coloured in your platform default Secondary Color. 
To change either the modules to be searched, or the colors, click on the Widget within your Page Content space and then the Tool icon to edit the CSS/HTML, as highlighted below:

In the upper right-hand pane select the module/s to be searched by this widget.
Multiple modules can be selected, or you can leave the default setting of All.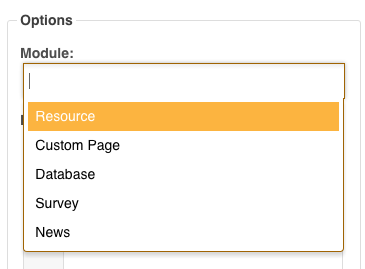 You can also change the text in the Search widget via the HTML:

You can change the colors by updating the widget CSS to override the default settings: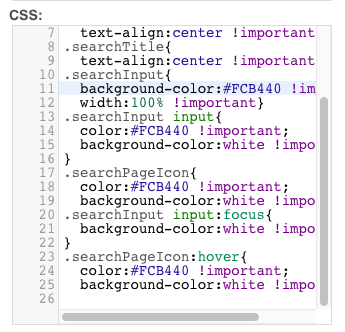 Note that we recommend only users familiar with HTML and/or CSS make these changes. 
Remember to Save your changes in the CSS/HTML side-pane window, as well as in the page as a whole when you are finished.
Related:
Other Custom Page Widgets: