Markup Comments allow users to add Comments and Annotations to Resource(s) within Publish & Feedback Approval Requests. Audio files are also supported here, allowing users to add General Annotations to specific time points on the Audio file. Additionally users can also add Markup Comments that will apply to a time range, adding both a start and end time to indicate the period when the Markup should apply. When the file is played, annotations will appear over the audio as added.
This article contains an overview of those aspects of Markup Comments that are specific to Audio files (for those supported for Annotations). Click on the items below to jump to a specific section:
Audio File Type Support
The Audio file types supported for Annotations include:
Adding an Audio Annotation
When adding an Audio Annotation, you will need to select the Colour of the Comment / Pin annotation that you wish to add in.
The middle bar of the Audio player is where you can add and view your annotations. Remember to add the corresponding content before you click Save.
If you wish to navigate to another spot on the Audio file, you can use the bottom point or the scroll bar.
You can see an example of how to add an Audio annotation below. Note that both Time Ranges and Single time points can be added here.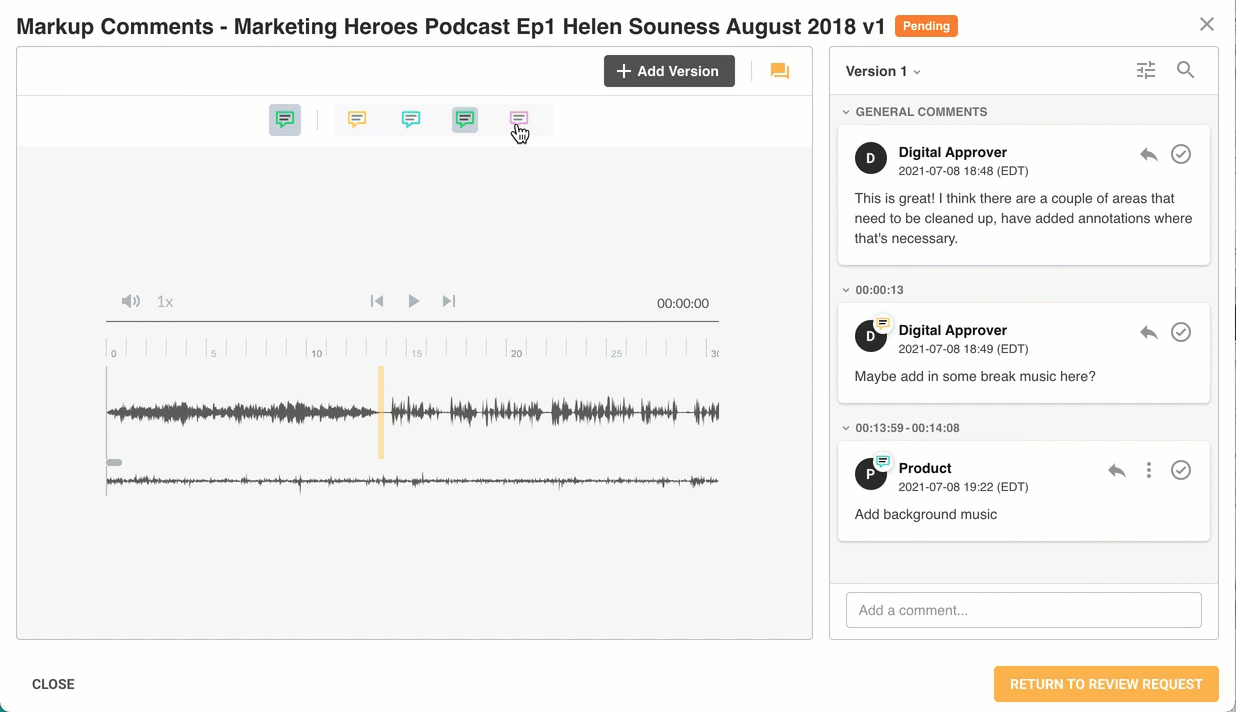 If you want to know more about the Audio controls, you can find out more here.
Other Markup Comment articles available include: Markup Comments Overview, Markup Comments Support, Access & Restrictions, Markup Comments & Annotations, Add New Versions / Revisions in Markup Comments, Instant Alerts (Markup Comments).